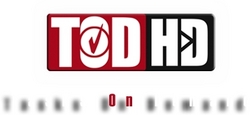 TODHD is set to change the way people watch TV Forever!
Los Angeles (PRWEB) July 6, 2010
Impulse Magazine writer Lyrics Express (Meki Cox) Breaks Kelsey Grammer Story!
Beating online news sources TMZ, Perez Hilton, and Enquirer, Lyrics Express explained that she happened to be at the right place at the right time – in order to receive the hot scoop from Kelsey Grammer. Part of being in the right place, meant that she is a member of the new Broadcast Network TODHD, where Grammer is an active force on his own channel.
Offering answers to why she had access to the information before NBC, Disney, ABC and CBS, she replied, "Because I made an extreme effort to be a part of this community and it is so worth it. The people are great and so are the celebrities who are down to earth – I wanted to do more – reach out and help people. I write – so this was what I had to offer."
Lyrics Express advised that she joined Impulse Magazine after joining TODHD and thought that it would be fun to do interviews of the celebrities on KelseyLive.com and write about them for the new Magazine she had started writing for.
She said that joining up to KelseyLive.com was free and after getting involved in the community someone dared her to try and write an interview on Kelsey Grammer himself.
So – gearing up her nerves, Lyrics Express says she actually sent him an email and engaged with Grammer – providing him the fact that she had done some interviews on a few of the other celebrities that are also active on the site which turned out to be extremely good.
Grammer decided that it would be interesting to pursue other avenues of social media and gave the
Headline News to Lyrics, giving her an unheard of – and much appreciated - opportunity to expand her writing experience. Lyrics took the chance and gave the article to the magazine, which published it immediately.
Impulse Magazine is owned by young entrepreneur Donny Gamble, Jr., and has received over 70 thousand unique page views to date. Lyrics chose to go with Gambles' adventure, not for high pay, but because she believed in the vision Gamble had for the magazine.
About TODHD
TODHD is a new broadcasting network housed online and is an entertainment platform based on social media. TODHD allows the celebrities who are broadcasting to actively engage with their audience. Kelsey Grammer is the owner of KelseyLive the starting channel on TODHD – and is the driving force behind TODHD – as a celebrity he has chosen to actively interact with the people on the channel.
Kelsey Grammer has chosen to provide a platform for all people to network and communicate openly with each other – sharing information and creative artistic impressions. This site provides opportunities for both the average individual and for the person attempting to achieve more for their lives.
As in the case with Lyrics Express – opportunities can happen with ease – and it shows how the opportunity is openly promoted on the TODHD site - depending on the individual and how they conduct themselves as a community member. Lyrics gathered information and then promoted the story to Impulse Magazine quickly – beating the other large news companies to the news scoop – where most of the news magazines will not even take notice for a couple of days.
The news will probably slowly trickle out and as the larger companies become aware of this as breaking news, it will be interesting to watch their reactions in retelling this story. Impulse Magazine strongly supports writers embarking on their careers – and provides opportunities to the new writer looking for a place to submit their entries.
A couple weeks after former IBM executive Rennell Garrett invested in the online men's magazine, he stated that "The magazine is well on pace to hit 1 million visitors by the end of the year due to the combined marketing efforts that he brings to the table along with the owner Donny."
Impulse Magazine also is looking for active sponsors or advertisers who might be interested in being in on the top of the line news and stories written by some really good writers. This venture has already topped in Alexa and is a force to be watched as it is a start up online magazine that intends to be competing comfortably with the larger news companies as they grow.
When Grammer gave this story to Lyrics, it opened the possibility for future celebrity news scoops from other active TODHD celebrities. Keep your eyes posted to Impulse Magazine
Go here to read the full in-depth story
ImpulseMagazine.net
Rennell Garrett
(404) 941-0487
391 17th st.
Atlanta, Ga 30363
admin(at)impulsemagazine(dot)net
# # #