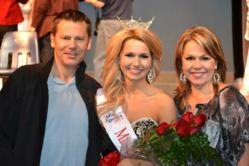 I'm a Freshman at the University of Oklahoma and I want your Vote. I want to be a lawyer and I want to fly to Florida for the BCS Championship Game!
Tulsa, OK (PRWEB) December 10, 2012
Dr. Pepper offers these scholarships as a way to help students nationally fulfill their dreams by paying for college tuition. Of the 10 finalists, the top 5 video vote getters will get the chance to compete for $100,000 in college tuition with an all expense paid trip to the Discover BCS National Championship Game on January 7th in Miami, FL.
Here's how it works:
Fans decide - Fans can help one of Oklahoma's own make the top 5 by voting daily until December 17th.
To vote for Kelsie, go to http://www.DrPepperTuition.com from your laptop or desktop computer (no cellphones). In the top 10 finalists, look for Kelsie Berg's video (she's the lawyer). Her link is http://www.drpeppertuition.com/entry/54. The top 5 finalist videos with the most votes will win an all expense paid trip to the BCS Bowl National Championship Game to throw for $100,000 in college tuition. Kelsie will also get 1 bonus vote per day if fans Tweet #TuitionForKelsie after voting withe the Facebook app. NOTE: Re-Tweets do not count as votes.
Note: Voters must have a public Twitter profile for Twitter votes to count. Fans can vote everyday until December 17th.
Kelsie is the daughter of Dean and Jill Berg in Broken Arrow Oklahoma. Dean is the owner of OnFirstPage.com an SEO & Web Development Firm. Kelsie is a 2012 grad of Broken Arrow and is attending the University of Oklahoma.