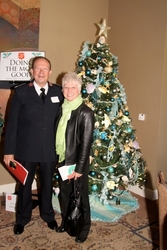 Giving is very important to me
Phoenix, AZ (PRWEB) December 24, 2009
Wikki Stix President, Kem Clark, attended the annual Salvation Army Christmas luncheon in Phoenix on December 8, 2009. The luncheon featured an auction with proceeds going to support the Salvation Army.
Ms. Clark was the highest bidder on the ornate Christmas tree, which she donated to a local family shelter. The tree was presented to Ms. Clark by Col. Olin Hogan of the Salvation Army in Phoenix.
"Giving is very important to me," said Kem Clark, President of Wikki Stix. "Thanks to the Salvation Army, many people in the Phoenix area and across the country won't have to struggle to provide their families with gifts this holiday season. As a supporter of the Salvation Army, I decided to donate the Christmas tree to the shelter, in hopes that it gives some needy families a little holiday spirit."
Kem Clark is a former member of The Salvation Army Advisory Board in Phoenix and a prior winner of the Sally Award, in which a volunteer is recognized for their outstanding efforts during the previous year.
To learn more about Kem Clark and Wikki Stix, visit Wikki Stix.
About Omnicor, Inc. dba Wikki Stix
Omnicor, Inc. dba Wikki Stix is based in Phoenix, Arizona. Wikki Stix is the patent holder and sole worldwide manufacturer of Wikki Stix One-of-a-Kind Creatables. For over 20 years, Wikki Stix has produced these toys, named after the company itself, exclusively in the U.S.A. Wikki Stix has won several Parents' Choice Awards, as well as the iParenting Media Award, awards from Dr. Toy and the top two toy awards in the United Kingdom.
With distributors on 5 continents, Wikki Stix can be found in upscale specialty toy stores and educational supply stores, as well as some craft and hobby stores.
Wikki Stix - Omnicor, Inc. can be found on the web at WikkiStix.com
###