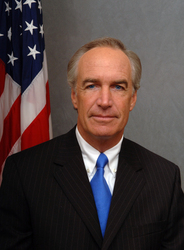 Drawing on his experience as secretary of the Interior and as former governor of Idaho, Secretary Kempthorne will share his insights on how GIS helps government officials understand and act on complex issues like wildlife management, alternative energy, conservation, water demands, and wildland fires
Redlands, California (PRWEB) July 31, 2008
On Sunday, August 3, 2008, secretary of the Department of the Interior (DOI) Dirk Kempthorne will address attendees at the 15th Annual ESRI Senior Executive Seminar in San Diego, California. The following day, he will address thousands of attendees at the ESRI International User Conference (ESRI UC) in San Diego. For both senior-level executives and the ESRI UC audience, he will discuss the importance of geographic information system (GIS) technology at the department.
"In recent years, DOI has moved away from applying GIS to single projects, and now we are building a strong, department-wide capability," said Kempthorne. "Geographic information underlies almost all the work that the Interior does; it provides us with a basis for data sharing and integration, building a deeper understanding of places and resources, which helps us make better decisions."
On Sunday, Kempthorne will highlight how GIS serves as a foundation for uniting knowledge from experts across the department's eight bureaus. He will also stress the importance of having managers understand the value of this technology. On Monday, he will focus on the evolution of DOI's enterprise GIS. He will also explain how DOI supports collaboration with state and local organizations as well as private companies.
"Drawing on his experience as secretary of the Interior and as former governor of Idaho, Secretary Kempthorne will share his insights on how GIS helps government officials understand and act on complex issues like wildlife management, alternative energy, conservation, water demands, and wildland fires," said ESRI president Jack Dangermond.
The ESRI International User Conference will be held in San Diego August 4-8. For more information, visit http://www.esri.com/uc.
About ESRI
Since 1969, ESRI has been giving customers around the world the power to think and plan geographically. The market leader in GIS, ESRI software is used in more than 300,000 organizations worldwide including each of the 200 largest cities in the United States, most national governments, more than two-thirds of Fortune 500 companies, and more than 7,000 colleges and universities. ESRI applications, running on more than one million desktops and thousands of Web and enterprise servers, provide the backbone for the world's mapping and spatial analysis. ESRI is the only vendor that provides complete technical solutions for desktop, mobile, server, and Internet platforms. Visit http://www.esri.com.
ESRI, the ESRI globe logo, GIS by ESRI, http://www.esri.com, and @esri.com are trademarks, registered trademarks, or service marks of ESRI in the United States, the European Community, or certain other jurisdictions. Other companies and products mentioned herein may be trademarks or registered trademarks of their respective trademark owners.
###