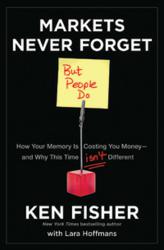 Woodside, CA (PRWEB) December 15, 2011
Ken Fisher's latest investment book, Markets Never Forget (Wiley, 11/08/11) has spent the past three weeks climbing the Wall Street Journal's Hardcover Business Best Seller list. Debuting at #9 in the week ending November 20, the book moved to #8 the following week and finished the week ending December 4 at #6.
Markets Never Forget was written by investment guru Ken Fisher with co-author Lara Hoffmans. Ken Fisher has written several Wall Street Journal and New York Times bestsellers, including last year's Debunkery, 2009's How to Smell a Rat, 2008's Ten Roads to Riches, and 2006's The Only Three Questions That Count. He is also the fourth longest-running columnist in Forbes's history and the CEO of Fisher Investments. Lara Hoffmans is a content manager at Fisher Investments, managing editor of MarketMinder.com and a regular contributor to Forbes.com.
In the book (full title: Markets Never Forget (But People Do): How Your Memory Is Costing You Money and Why This Time Isn't Different), Ken Fisher teaches readers how their memories can trick them into making costly investment mistakes. He also explains how investors can improve their error rates by using history to battle unreliable memories. Though history never perfectly repeats, investors' reactions to recurring events are fairly reliably consistent. Some recessions may be worse than others, but throughout history investors have lived through them and bounced back. Credit crises, bull and bear markets, geopolitical tension, war and even terror attacks have also been lived through time and time again. Understanding how investors have reacted to similar events in the past can help people have better expectations for the future, perhaps with less guesswork about what it holds.
Markets Never Forget is published by John Wiley & Sons, Inc., which was founded in 1807. For more than 200 years, Wiley has been a valuable source of information and understanding, publishing the work of more than 350 Nobel Laureates in all categories. Wiley's core businesses publish scholarly journals, encyclopedias, books and educational resources for collegiate and lifelong learners. Its global headquarters are in Hoboken, New Jersey, and it operates worldwide. The company is listed on the New York Stock Exchange under the symbols JWa and JWb.
The book is available for purchase at local bookstores, Amazon.com, Barnes & Noble (bn.com) and Booksamillion.com. Kindle and iTunes downloads are also available. For more information about the book, visit http://www.marketsneverforget.com/.
###