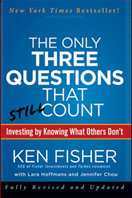 Woodside, CA (PRWEB) May 23, 2012
In his groundbreaking New York Times bestseller, The Only Three Questions That Count, Investing by Knowing What Others Don't, investment expert, Fisher Investments CEO and longtime Forbes columnist Ken Fisher taught investors to question traditional investing wisdom, interrogate long-held market beliefs and, most importantly, to challenge themselves. And now, in The Only Three Questions That STILL Count, he's back with co-authors Lara Hoffmans and Jennifer Chou demonstrating the path to better investment results remains knowing what others don't.
Ken Fisher's methodology can be as easy as asking three simple questions. The first helps investors see things as they really are. The second question helps investors see things others often miss. And the third can help investors keep their unruly brain in line. Investing is a non-stop query session—this book provides tools that should serve people the rest of their investing career.
Thoroughly revised and updated, this new edition features new content and updated graphs and data. Packed with images, practical advice and anecdotes that show Ken Fisher's ideas in action, the book helps investors question how to think about the market, its component parts and even individual stocks. Taken together, Ken Fisher's three questions can help readers make better investment decisions by identifying what to look for and how to profit from it.
Ken Fisher is best known for his prestigious "Portfolio Strategy" column in Forbes magazine, where his over 27-year tenure of high-profile calls makes him the fourth longest-running columnist in Forbes's 90-plus year history. He is the founder, Chairman and CEO of Fisher Investments, an independent money management firm managing tens of billions for individuals and institutions globally. Fisher is ranked #263 on the 2012 Forbes 400 list of richest Americans and #764 on the 2012 Forbes Global Billionaire list. In 2010, Investment Advisor magazine named him among the 30 most influential individuals of the last three decades. Fisher has authored numerous professional and scholarly articles, including the award-winning "Cognitive Biases in Market Forecasting." He has also published eight previous books, including bestsellers The Only Three Questions That Count, The Ten Roads to Riches, How to Smell a Rat, Debunkery, and Markets Never Forget (But People Do), all published by Wiley. Ken Fisher has been published, interviewed and/or written about in many major American, British and German finance or business periodicals. He has a weekly column in Focus Money, Germany's leading weekly finance and business magazine.
Lara Hoffmans is a content manager at Fisher Investments, managing editor of MarketMinder.com, a regular contributor to Forbes.com and co-author of the bestsellers The Only Three Questions That Count, The Ten Roads to Riches, How to Smell a Rat, Debunkery, and Markets Never Forget (But People Do).
Jennifer Chou graduated from the University of California with a BS in finance. She was a research analyst of global capital markets and macroeconomics at Fisher Investments.
The Only Three Questions that Still Count
By Ken Fisher
With Lara Hoffmans and Jennifer Chou
Wiley; April 2012; $29.95
Hardcover ISBN: 9781118115084
Also available in e-Book formats