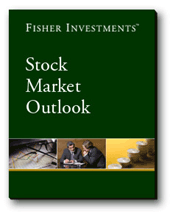 Optimists are scarce, and ample skepticism is rampant—a bullish feature—providing a wall of worry for this bull market to climb.
Woodside, CA (PRWEB) February 06, 2012
Fisher Investments, headed by Ken Fisher, released the executive summary of its latest Stock Market Outlook—an in-depth analysis of recent global macroeconomic events and a forecast for the year ahead. While the full report, which is due out in the coming week, offers much greater detail on the firm's view of global market conditions, geopolitical issues and current events impacting financial markets, the executive summary provides investors with an insightful overview of the firm's high-level outlook.
After a steep mid-year correction, 2011 finished on a high note with the MSCI World Index gaining 7.6% in Q4.* Ken Fisher and his firm's Investment Policy Committee expect positive market momentum to carry into 2012, creating an overall positive year for stocks.
The executive summary explains, "As 2012 begins …optimists are scarce, and ample skepticism is rampant—a bullish feature—providing a wall of worry for this bull market to climb. Headlines fret tapped-out consumers, sovereign debt, a Chinese hard landing, political wrangling, too much stimulus, too little stimulus, etc. Yet underappreciated positives abound. Corporate revenues and profits are growing at healthy clips, stock valuations are extremely attractive, the global economy continues to reach new highs—and that vibrancy likely continues into 2012."
Fisher Investments publishes its Stock Market Outlook four times a year, written under the guidance of the firm's five-member Investment Policy Committee (IPC): CEO and Chief Investment Officer Ken Fisher, Vice Chairman Jeff Silk, Vice Chairman Andrew Teufel, and Research Managers Bill Glaser and Aaron Anderson. Collectively, the IPC oversees Fisher Investments' portfolio strategy, in-house research efforts, portfolio engineering and capital markets technology development.
To access the executive summary, visit: http://news.investors.com/Article/600189/201202061424/Ken-Fisher-and-His-Firms-Investment-Policy-Committee-Are-Optimistic-for-2012.htm
*Source: Thomson Reuters, MSCI World net return from 09/30/2011 to 12/31/2011.
About Ken Fisher and Fisher Investments
Founded in 1979, Fisher Investments is an independent, privately-owned money management firm with tens of billions under management. Fisher Investments maintains two principal business units, Fisher Investments Institutional Group and Fisher Investments Private Client Group, which serve a global client base of diverse investors. Fisher Investments' clients include over 100 large institutions and over 25,000 high net worth individuals. Founder and CEO Ken Fisher has written the Forbes "Portfolio Strategy" column for 27 years, has written 8 books on investing and personal finance (5 of which are national bestsellers), and in 2010 was named by Investment Advisor magazine as one of the 30 most influential industry individuals in the last 30 years (Thirty for Thirty, May 2010).
###