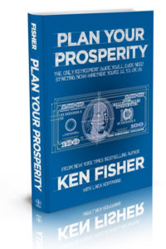 Woodside, CA (PRWEB) December 07, 2012
Ken Fisher, Forbes columnist and Fisher Investments CEO, released his ninth book, Plan Your Prosperity, which focuses on retirement planning for investors of all ages.
It doesn't matter whether individuals are already well into retirement or just starting a career—in this guide, Ken Fisher helps outline a plan for reaching financial goals and debunks common retirement planning myths. "Many investors, and even some professionals distinguish between financial planning and retirement planning—like they're two distinct phases, or the two are, inherently, radically different. But in my view, this imagined dichotomy is wrong—this idea you should invest one way for a period of years and then you need a whole separate set of rules upon hitting some milestone".
Plan Your Prosperity also provides easy-to-follow exercises to help readers better understand their current financial profile. Other key principles outlined include:

Determining an appropriate investing timeline
Assessing whether a portfolio can sustainably support future cash flow needs
Calculating how much to save
Avoiding typical investor pitfalls
Investors don't have to be financial gurus to be successful—but they do need a sound plan. This easy-to-understand guide is a critical tool for turning goals into reality.
About Ken Fisher and Fisher Investments
Founded in 1979, Fisher Investments is an independent, privately-owned money management firm with tens of billions under management. Fisher Investments maintains two principal business units, Fisher Investments Institutional Group and Fisher Investments Private Client Group, which serve a global client base of diverse investors. Fisher Investments' clients include over 100 large institutions and over 25,000 high net worth individuals. Founder and CEO Ken Fisher has written the Forbes "Portfolio Strategy" column for over 28 years, has written nine books on investing and personal finance (four of which are best sellers), and was named by Investment Advisor magazine as one of the 30 most influential industry individuals in the last 30 years (Thirty for Thirty, May 2010).