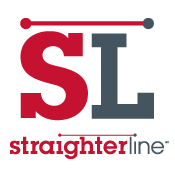 With StraighterLine, Kendall demonstrates its commitment to students by providing a convenient, low-cost, low risk way to start college.
BALTIMORE, MD (PRWEB) September 27, 2012
StraighterLine (StraighterLine.com) announced today that Kendall College (Kendall.edu) has joined their rapidly expanding network of partner colleges Kendall, located in Chicago, offers undergraduate degrees in culinary arts, hospitality management, business and early childhood education. This agreement provides students with more low cost, direct pathways to their careers and a streamlined credit transfer process.
Kendall offers an immersive, hands-on approach to learning, combined with career specific internships for degree programs, that prepares students to succeed in their chosen professions. With year-round classes, full-time students can complete a bachelor's degree in as little as three years.
StraighterLine offers students the opportunity to get a quality education online, at their convenience, at a substantially lower cost than most traditional degree programs. Students can take freshman and introductory-level classes through StraighterLine and save thousands of dollars on the cost of their college degree. With StraighterLine's affordable subscription pricing plan, students can save up to 90% on their first year of college and can move through the material as quickly or slowly as they like.
"Kendall College is pleased to partner with StraighterLine to help more students realize their dream of attending college," said Emily Williams Knight, president of Kendall College. "We're committed to finding ways to make college more accessible and affordable for an increasingly diverse audience that requires flexibility and convenience. This helps meet that need and we look forward to welcoming StraighterLine students to the Kendall family."
Currently, StraighterLine offers forty two entry-level college courses online, including College Algebra, Precalculus, Calculus I, Calculus II, Business Communication, Introduction to Biology, Introduction to Biology with lab, General Chemistry I, General Chemistry I with lab, English Comp I, English Comp II, Accounting I, Accounting II, Managerial Accounting, Macroeconomics, Microeconomics, Business Ethics, Organizational Behavior, Business Statistics, Anatomy & Physiology I & II, each with a lab option, Medical Terminology, Introduction to Psychology, Introduction to Business, Introduction to Criminal Justice, Introduction to Nutrition, Introduction to Sociology, Western Civilization I & II, Personal Finance, Pharmacology I, Pharmacology II, United States History I & II, Physics I with lab option and two developmental courses.
"With StraighterLine, Kendall demonstrates its commitment to students by providing a convenient, low-cost, low risk way to start college." Burck Smith, CEO of StraighterLine.
About Kendall College
Kendall College, founded in 1934, is located in Chicago, Illinois and is a member of the Laureate International Universities network. Kendall offers undergraduate degrees in business, culinary arts, early childhood education and hospitality management to a diverse and passionate community of more than 2200 students. The curriculum combines strong academics with practical experience and international educational opportunities that help give students in business, hospitality and culinary arts programs the skills and expertise to be leaders in their professions. Kendall College was ranked the number one program in Chicago for preparing students for careers in hospitality management and culinary arts in a survey of management at Chicago's leading hotels and Michelin Guide restaurants (ORC International – 2011 Survey). Kendall College is accredited by The Higher Learning Commission and a member of the North Central Association of Colleges and Schools (NCA), ncahlc.org; 1-312-263-0456. For more information, visit http://www.Kendall.edu.
About StraighterLine
StraighterLine has been recognized as a revolutionizing force in education by major news organizations and the U.S. Chamber of Commerce for offering students online courses that earn real college credit for just $99 a month. Fast Company named StraighterLine one of the "10 Most Innovative Companies in Education."
In order to facilitate the award of credit, StraighterLine has forged partnerships with leading accredited online colleges and universities. A student ultimately earns a degree from those institutions but realizes tremendous savings and convenience by starting with StraighterLine.
StraighterLine's courses are evaluated and recommended by the American Council on Education's College Credit Recommendation Service (ACE CREDIT). In addition to the institutions with which StraighterLine has a direct relationship, more than 300 other schools are reported to have accepted StraighterLine coursework for transfer credit.
Currently, StraighterLine offers 42 entry-level college courses online in the Sciences, Humanities, English, Math and Business. 5 StraighterLine courses have been approved by The College Board to be listed as AP courses: AP Macroeconomics, AP Microeconomics, AP English Language and Composition, AP Calculus AB and AP Psychology. And dozens of StraighterLine courses cover the same subject areas as CLEP exams, making them acceptable alternatives to or preparations for those tests.
For information, visit StraighterLine.com or call 1-877-str8erline (1-877-787-8375).