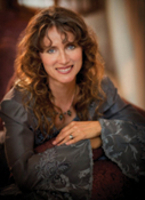 If you're a Coach, Consultant, Designer, Trainer or Speaker, and are overworked and struggling to grow your business, then you know that making a change is vital to your success
Tucson, AZ (PRWEB) August 14, 2009
Million dollar marketing coach for women entrepreneurs and award-winning small business expert, Kendall SummerHawk recently shared breakthrough secrets to creating a 7-figure home-based business in 3 short years or less. A free recording of her teleseminar series, 5 Secret Breakthrough Triggers to a 6-, High 6- and Even 7-Figure Business: How to Instantly Transform Your Business Model and Quickly Make More Money ... All With Greater Grace, Ease and Joy Than You've Ever Dared Hope For!" is now available for download at http://moneybreakthroughtriggers.com/
"If you're a Coach, Consultant, Designer, Trainer or Speaker, and are overworked and struggling to grow your business, then you know that making a change is vital to your success," says Kendall.
"As unbelievable as it may sound, it's actually harder to make 5-figures than it is to make 6- and high 6-figures," says Kendall. "Through my personal success, I have come to understand what I call magic triggers that will help you skip years of time, frustration and achingly slow growth."
Her teleseminar is full of moneymaking and life-saving ideas that will forever alter any business model to create consistent monthly income, and incredible wealth doing fulfilling and rewarding work.
Download the free recording now and receive her special bonus video series, free.
"You'll learn to leap ahead and transform your business so it practically runs itself and generates secure, steady, reliable streams of income month after month," she says. "All while making an important impact in the lives of others and without ever sacrificing an ounce of your authenticity."
"I usually only share this information with my private coaching clients, but I'm excited to offer my proven system for creating astounding business growth," says Kendall. "You'll discover the top 5 triggers I personally used to go from frustrating 5-figures to gracefully creating a million dollar home-based business in just 3 short years."
Kendall will also be introducing her brand new Money Archetype system, it's all about the single biggest reason why we unconsciously push money away and how we can change to attract and encourage wealth. It's all a preview of her exciting live event Money, Marketing and Soul Intensive: Your Blueprint for a Joyful and Authentic Million Dollar Business scheduled October 15-18, 2009 in Tucson, Arizona.
Check out 5 Secret Breakthrough Triggers to a 6-, High 6- and Even 7-Figure Business: How to Instantly Transform Your Business Model and Quickly Make More Money ... All With Greater Grace, Ease and Joy Than You've Ever Dared Hope For!" at http://moneybreakthroughtriggers.com/.
Kendall SummerHawk, the Million Dollar Marketing Coach, is an expert at helping women entrepreneurs, at all levels, design a business they love, charge what they're worth and get it. Kendall delivers simple ways entrepreneurs can design and price their services to quickly move away from 'dollars-for-hours work' and create more money, time, and freedom in their business. For free articles, free resources and to sign up for a free subscription to Kendall's Money, Marketing and Soul weekly articles visit http://www.kendallsummerhawk.com.
# # #