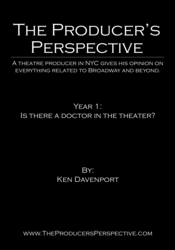 New York, NY (PRWEB) April 13, 2009
Ken Davenport, one of Broadway and Off-Broadway's youngest and most innovative producers, shares the secrets of his success in this new book, The Producer's Perspective, which features entries from TheProducersPerspective.com, his popular blog where he gives his opinion on everything relating to Broadway and beyond.
The book is a valuable resource for anyone interested in production, as the entries chronicle Ken's unique experiences as one of Broadway's most creative 21st century minds and gives readers a marketing-savvy insider's perspective of the New York City theater industry.
In his opinionated discussions about the state of commercial theater, Ken shares the ideas and knowledge that inspired Manhattan Magazine to call him one of Manhattan's "Next Generation of Cultural Thinkers." Ken's blog has been featured in Vanity Fair, New York Magazine, Gothamist and Gawker.
The Producer's Perspective is currently available online at Lulu.com and will be available on Amazon.com in the coming weeks.
About The Author
Recently hailed as the "P.T. Barnum of Off-Broadway" by the New York Times for his unique 21st century marketing strategies, Ken Davenport is becoming widely recognized as one of the most innovative theater producers today. Ken's visionary tech-savvy was also recently featured on a national commercial for Apple's iPhone and he was named one of Crain's "Forty Under 40" in 2008 as a result of his fresh ideas and unprecedented success. Ken's impressive Broadway and Off-Broadway production slate includes Speed-the-Plow, Will Ferrell's You're Welcome America, Blithe Spirit, Altar Boyz, The Awesome 80s Prom and My First Time. Visit Davenport Theatrical Enterprises online at DavenportTheatrical.com.
Title: The Producers Perspective
By: Ken Davenport
ISBN: 978-0-578-00475-4
Copyright: © 2008 Davenport Theatrical Enterprises, Inc.
###