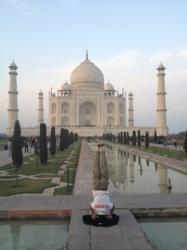 KENKEN IS YOGA FOR THE MIND
Pleasantville, NY (PRWEB) May 24, 2012
KenKen® Puzzle isn't just a wildly popular and addictive hobby for millions of people worldwide. It's learning-based and revolutionary. You could say that KenKen is turning logic skill on its head.
The puzzle was invented by noted Japanese educator Tetsuya Miyamoto. Though a yoga class can stretch your body, KenKen can stretch your mind more than ever before. Will Shortz, New York Times puzzle editor emphasizes "KenKen is a much richer and deeper puzzle than sudoku." There is no better way to achieve Zen-Ken than by being captivated by a challenging, yet easy to learn puzzle.
With unlimited free KenKen puzzles on http://kenken.com you will exercise the mind as many times as you "KEN". Players can select their level of challenge for each puzzle. It's like going from one yoga position to the next, you will never want to stop. "You can achieve perfect relaxation without having to break a sweat," said KenKen's Nikki Sato. "Each puzzle will lift your spirits and bring harmony to your world. Now KenKen is available on iPhone/iPad app so you can experience Zen-Ken anywhere."
QUOTE: "My KenKen mobile app even works in India!"
—international traveler Sam Fuhrer (pictured above, standing on his head)