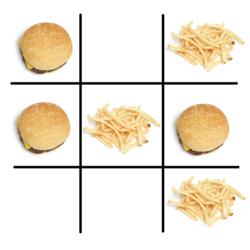 A burger fills your stomach, but KenKen is food for the mind."
Donald McRonald as told to KenKen
Pleasantville, NY (PRWEB) May 11, 2012
Even the number lovers at KenKen® Puzzle don't usually enjoy counting to 100 million. But when that's the number of puzzles played on their website, http://www.kenken.com, it's a different story!
This past weekend, KenKen.com celebrated 100 million puzzles played. It took just over three years to reach this lofty tally. The addictive math and logic puzzle, which was invented in Japan, reached U.S. shores in 2008. Since then, there have been many outlets to play the game, including classrooms, magazines and newspapers nationwide (including the New York Times), books and e-books, and mobile devices. And most KenKen enthusiasts seem seem drawn to the puzzle's website too.
KenKen.com usage has especially spiked since the site's recent relaunch, and the addition of free unlimited play. When the site began in January 2009, players could try up to six puzzles a day. "Now, we invite people to play as much as they want," said Robert Fuhrer, president of the KenKen Puzzle Co. "And these figures don't even include the millions of puzzles played on our mobile apps. http://itunes.apple.com/us/app/kenken-premium-edition/id485694706?mt=8&ign-mpt=uo%3D4 for iPad, iPhone, and iPod Touch.
More new features are coming soon to KenKen.com. Players are encouraged to "like" the puzzle's Facebook page (https://www.facebook.com/KenKenPuzzles) for the latest updates.