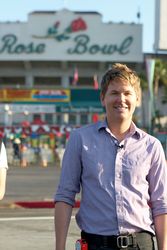 West's Best Treasure Hunt
Pasadena, CA (PRWEB) August 25, 2009
Watch and learn from Kenneth Brown, acclaimed interior designer and host of HGTV's reDesign as he shops one of the world's greatest marketplaces. Kenneth, one of Los Angeles' most sought after designers whose recent clients include tween-set superstars Vanessa Hudgens and Zac Efron, soccer star Mia Hamm and MLB first baseman Nomar Garciaparra, often shops flea markets and finds them perfect spots to discover "the finishing touches for a project to make it unique."
Kenneth, a member of his design team and a client recently spent the day at the Rose Bowl with the Design Junkies of the popular online home design and decorating community, HomeWorkshop.com.
Follow along by video as the team tackles the "West's Best Treasure Hunt," scoring vintage furniture and accessories for clients and for themselves. Fun finds are unearthed, design knowledge is expanded, and deals are struck. All the while Kenneth shares his savvy flea-market tips and strategies for finding the "goodies," negotiating your best deal and having fun!
"Keep an open mind when shopping flea markets," said Kenneth. "The reason we shop them is to find that piece that we don't know we really need (until we see it)."
The Wall Street Journal ranks the monthly Rose Bowl Flea Market and its five miles of booths in the top five Antique Markets in North America. "They have everything under the sun here," said Kenneth.
With daily stories covering the latest in home design and decorating, and group participation with its signature DIY Challenge projects, HomeWorkshop.com is the active community for creative people. Design Junkies and experts meet here and inspire one another to make their homes beautiful, comfortable and personalized spaces.
###