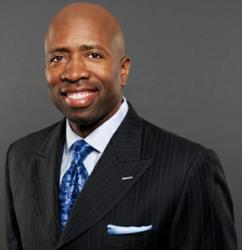 Los Angeles, CA (PRWEB) September 14, 2012
Kenny "The Jet" Smith, Two-Time NBA Champion and Analyst on Inside the NBA on TNT, launched his official website, http://www.KennyTheJetSmith.com. Best known for his success as a Houston Rocket, Kenny Smith has slowly entered the spot light as a top basketball broadcaster. This praise and honor comes after he joined forces with Charles Barkley, Shaquille O'Neal and Ernie Johnson to host one of the most entertaining studio shows in sports television, Inside The NBA. After countless memorable moments and priceless segments, Kenny Smith along with the team at Inside the NBA received the Sports Emmy Award for Outstanding Studio Show.
The award was no surprise to viewers as many stayed up to the wee hours of the night to catch the latest segments by Kenny Smith and Charles Barkley. One segment that that hit a homerun with viewers was "Gone Fishin' with Kenny where he comically creates photos of NBA players who got knocked out of the playoffs. The segment continues to draw in NBA fans across the country as well as NBA Stars as they are await to see what Kenny has up his sleeve. Many of the classic Gone Fishin' moments can be found on Kenny's new official website. The new website not only gives fans the opportunity to catch up on the Classic Gone Fishin' moments, but also provides them an inside look at his road to the NBA, info his annual basketball camp and his current entrepreneurial projects.
Many will flock to the new website to relive his memorable NBA career. Kenny won two NBA World Championships with the Houston Rockets and was also a member of the Sacramento Kings, Atlanta Hawks, Detroit Pistons, Orlando Magic, and Denver Nuggets during his career. He scored a career high 41 points against the Los Angeles Lakers, while playing with Houston, on December 26, 1993. He is Houston's All-Time leader in three-point field goal percentage at .407, along with having the best field goal percentage of NBA guards in 1992-93. He was named a member of the NBA All-Rookie Team in 1988, after averaging 13.8 points and 7.1 assists per game with the Kings.
Fans also have an opportunity to get tips from Kenny through his website with an exclusive "Coached by Kenny" project. While the details have not been officially released, keep an eye on the website as they announce launch date. For corporations looking to connect with Kenny, the website offers the ability to book him for speaking engagements, corporate appearances, autograph signings, product endorsements and VIP Meet & Greets.
Written by Anthony Fernandez
About AthletePromotions.com
AthletePromotions is a sports marketing firm and athlete booking agency securing thousands of athletes for speaking engagements, corporate appearances, product endorsements, autograph signings, spokesperson campaigns, celebrity golf tournaments, VIP Meet & Greets and more. To book an athlete, call us at 1.888.246.7141.
Ryan Totka and his team at AthletePromotions have assisted corporations in booking Kenny "The Jet" Smith and many other NBA stars for speaking engagements, corporate appearances, autograph signings and VIP Meet & Greets