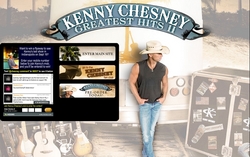 He understands how his fans want to be communicated to and sends them alerts and offers, making his fan club one of the most loyal and active in existence.
Palo Alto, CA (PRWEB) April 27, 2009
Kenny Chesney, the Biggest Ticket Seller of 2008, wants to create something bigger and better on tour in 2009. Kenny Chesney has chosen Mozes® (http://www.mozes.com ), the service that connects people to what they love from their mobile phones, to power his 2009 Corona Extra™ Sun City Carnival Tour. On tour, Chesney fans are able to text in for their chance to win seat upgrades and "Sand Bar Passes" at the show and join Kenny Chesney's mobile fan club in order to receive exclusive updates and content from the country music star. Fans are also able to take pictures of the show via their mobile phone and send them to a page on Kenny Chesney's website for all to view.
"Kenny Chesney and his management represent some of our most innovative mobile trailblazers," said Chris Stacey, Vice President of Music Industry Sales, Mozes. "He understands how his fans want to be communicated to and sends them alerts and offers, making his fan club one of the most loyal and active in existence."
Kenny Chesney, the only artist to play to over a million fans last year - and the single biggest ticket seller in any genre - already sold out his August 15 show at Boston's Gillette Stadium in less than 10 minutes. On tour, Chesney fans will be encouraged to text in to enter contests at the show and join his mobile fan club, powered by Mozes. Once part of his mobile mob, they will be among the first-to-know of album release dates, pre-sale ticket offers, schedule changes, downloadable content and more.
"Kenny Chesney has an enormous fan following making it difficult for him to connect with his fans when he's on the road," said Louis Messina, President, The Messina Group, AEG. "Mozes lets him communicate to his fans before, during and after the show - from the stage or from the tour bus. This is a great way for Kenny to continue to show his fans how much he appreciates their support."
Chesney is joined on tour by ACM Album of the Year winner Miranda Lambert and Academy of Country Music (ACM) Top New Duo/Group and Country Music Association (CMA) Horizon Award winners Lady Antebellum. Sugarland and Montgomery Gentry will join the tour for the cities where he will be playing stadiums. Some of the stadium cities include Dallas, Texas, Columbus, Ohio, Louisville, Kentucky, Pittsburgh, Pennsylvania, Chicago, Illinois, Philadelphia, Pennsylvania, San Francisco, California, Seattle, Washington, Salt Lake City, Utah, Foxboro, Massachusetts, Detroit, Michigan and Indianapolis, Indiana.
About Mozes, Inc.
Mozes is a leader in mobile marketing, used every day by some of the world's best-loved bands, brands, sports teams and organizations to build relationships with their fans through the mobile phone.
Mozes helps its marketing partners in three ways: By providing a self-service web platform to create, deliver and analyze the effectiveness of mobile marketing campaigns; by providing strategic services that help its marketing partners to execute their mobile marketing strategy; and by providing in-venue services for live events, conferences and tours. Their customers benefit from a spam-free and consistent mobile experience they can trust, which results in increased participation, brand loyalty and ultimately more effective marketing campaigns.
Subscribe to the Mozes blog for updates at http://www.mozes.com/blog .
All trademarks contained herein are the property of their respective owners.
###