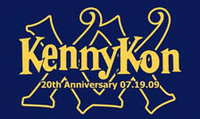 West Mifflin, PA (Vocus) July 16, 2009
Kennywood's long-time mascot, Kenny Kangaroo, invites guests to join in a special celebration for his 35th birthday, the 20th Anniversary of KennyKon*, and 10th birthday of The Exterminator roller coaster / dark ride.
Who?
The Western PA Region of American Coaster Enthusiasts, Kenny Kangaroo, special VIPs (including Kennys from past 35 years), The Exterminator riders, and all park Guests are invited to attend.
What?
KennyKon XX - Kenny Kangaroo's Birthday Party - The Exterminator's Birthday Party! Participants can win prizes by answering trivia questions or being on hand for door prizes. Kenny expects a BIG birthday cake good for sharing with Guests.
When?
Sunday, July 19, 2009 @ 2:15 PM
Where?
Kennywood's Kennyville Stage (located between Noah's Ark and the Potato Patch)
Why?
Kenny is proud to be 35 and loves to party (as do the Coaster Enthusiasts) ... plus, at 10 years old, The Exterminator is still one of a kind fun and deserves to celebrate.
*KennyKon is the annual Kennywood event for the Western Pennsylvania Region of the American Coaster Enthusiasts (ACE). Over 200 club members, from 14 different states, will be in attendance.
Kennywood is part of Palace Entertainment, which is part of the Parques Reunidos family of parks. Palace Entertainment hosts over 14 million visitors annually at 38 locations with seven theme parks, ten waterparks and 21 family entertainment centers and is the largest operator of waterparks and family entertainment centers in the nation. For more information, visit PalaceEntertainment.com.
# # #