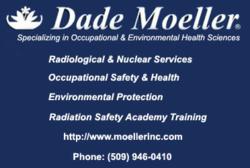 Richland, WA (PRWEB) February 01, 2012
Judson Kenoyer has been named Manager of the Dade Moeller Training Academy, which specializes in radiation and occupational safety training. Kenoyer, certified as both a health physicist and industrial hygienist, is uniquely qualified to lead the Training Academy's recently-launched expansion into the worker safety training market.
Kenoyer will manage all company-wide training activities, including courses provided at Training Academy sites in Gaithersburg, Md.; Las Vegas, Nev.; and other established office locations; as well as training services offered through private contracts. Kenoyer will be responsible for launching the Company's new worker safety and industrial hygiene courses, which are being offered through a partnership with EnergX. He also plans to expand and enhance computer-based training offerings, increase marketing efforts, and develop new industrial hygiene courses.
A senior-level employee of Dade Moeller for 10 years, Kenoyer most recently worked for the company's small business affiliate, Dade Moeller Technical Services, and served as the Director of Environment, Safety and Health for the Wackenhut Services, Inc. – Savannah River Site (WSI-SRS) Team, of which Dade Moeller Technical Services is a member. In this role, he was responsible for ensuring safe operations of the Protective Force members at the U.S. Department of Energy's Savannah River Site in Aiken, S.C., evaluating the workplace environment, and integrating worker safety throughout WSI-SRS.
Kenoyer will manage the Training Academy from Dade Moeller's office in Oak Ridge, Tenn., where the company has been positioning itself strategically for growth in its training, laboratory, radiological, environmental protection, worker safety, and industrial hygiene service offerings.
ABOUT DADE MOELLER: Founded in 1994, Dade Moeller provides a full range of professional and technical services to federal, state, and commercial clients in support of environmental, nuclear, radiological, and worker safety operations. Its Dade Moeller Training Academy, formerly known as Radiation Safety Academy, has successfully trained more than 11,200 professionals.
###