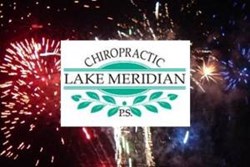 Lake Meridian Chiropractic is proud to be part of Kent's Fourth of July Splash tradition and to help make it possible
Kent, WA (PRWEB) June 18, 2013
As a sponsor of the 2013 Fourth of July Splash, Kent Chiropractor Danene Saggau and the whole team at Lake Meridian Chiropractic want you to get out and celebrate! Dr. Saggau and her family have many fond memories of the event and are excited to be involved. "My husband and I have lived in the Kent community for 24 years. We've always loved going to the Kent Splash event. It's a tradition that our kids want to do every year, so it only made sense to financially support this fun day."
The 2013 Fourth of July Splash features a wide variety of family activities, music and entertainment. It will take place between noon and 11:00 PM on July 4th in Lake Meridian Park at 14800 SE 272nd Street. Free shuttle buses will run to the park every 20 minutes from the following locations:
Kent Fire Station #75 at 15635 SE 272nd Street
Kentwood High School at 25800 164th Avenue SE
Meridian Elementary at 25621 140th Avenue SE
The fireworks display will begin at 10:00 PM. Admission is free to the public.
While the entire day promises to be a lot of fun for people of all ages—somewhere between 15,000 and 20,000 people are expected to participate—the fireworks finale has a special place in Dr. Saggau's heart. "I am always impressed with the fireworks show every year. They always do a spectacular job. My husband has been involved with the Lake Meridian Community Association (which raises the money for the fireworks show) for the past 8 years. He is responsible for putting the pyrotechnics barge together and for pulling it in after the show. The Kent fireworks show is something we are proud to be a part of because it is such a great community event."
You can learn more about Kent's Fourth of July Splash and the event's sponsors on the City of Kent's official website.
About Lake Meridian Chiropractic
Lake Meridian Chiropractic has been providing quality, effective chiropractic care to the residents of Kent, WA since 1990.
Lake Meridian Chiropractic
12901 SE Kent-Kangley Rd
Kent, WA 98030
(253) 630-1575
http://lakemeridianchiropractic.com
Follow Lake Meridian Chiropractic on Facebook.