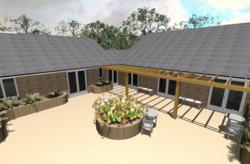 Key to success is attention to the detail of finishes and fittings to ensure that all those using the building not only enjoy it, but can do so safely," says Kent architect Tim Ball
Kent, United Kingdom (PRWEB) January 30, 2013
jhd Architects' extension of Hartley House comes at a time when modern, well-designed facilities are increasingly sought after by Kent families whose elderly relatives are no longer able to live at home. Of particular note are people with dementia whose numbers, according to 'The Dementia in Kent 2010 Public Health Annual Report', are expected to rise from 19,500 in 2011 to more than 30,100 by 2026.
Planning consent has been gained for up to 27 additional single bedrooms, 150m2 of new communal space and improved landscaping. Specifically designed for residents suffering from dementia, each bedroom will exceed the minimum standards suggested by the National Care Standards Commission. Nearly all the new rooms will have en-suite toilets and showers, and many will also have direct access to the courtyard areas. The scheme includes a new reception and cafe area with views of, and access to, the central courtyard.
The new communal space will include two lounges with a mix of small and large spaces which can be used for socialising or relaxing quietly. Large double doors with level thresholds, a hallmark of jhd Architects' approach, will give direct access to two enclosed courtyards which, sheltered from the wind and shaded from the sun, will be easy for staff to supervise and safe for residents to use independently. Raised planters will enable light gardening without bending down, and enclosed seating areas will encourage residents to go outside and socialise with each other, and with staff and visitors. The design also takes advantage of views of the surrounding countryside.
It is hoped the scheme will create up to 10 new jobs for local people looking for full time, part time and shift working jobs. The home also helps to build local skills through it's excellent training policies, standards and opportunities.
Owner Stephen Gilmour says: "Enhancing residents' well-being and quality of life is at the centre of the Hartley House extension project. jhd Architects have responded to our brief with a design that is both practical and creative. Now that work has started on site, our top priority is to minimise disruption by carefully managing health and safety issues in conjunction with the needs and daily routines of residents, visitors and staff and the contractor's programme of work."
Says Kent architect Tim Ball: "We are proud to be working on Hartley House, which is an important and integral part of the local community, particularly as we know our design will tangibly improve people's lives. Key to success, for all the architectural projects in our portfolio, is attention to the detail of finishes and fittings to ensure that all those using the building not only enjoy it, but can do so safely."
Upgrading the heating systems, improving insulation and choosing low maintenance materials means that the scheme will also reduce energy costs which are typically high in care homes because of the high room temperatures required and large amounts of laundry generated.
Hartley House Care Home is owned by Stephen and Julia Gilmour who are both actively involved in running it. They also own Mayfield Care Home in Sale, Cheshire and Staley House Care Home in Stalybridge.
jhd Architects' extension of Hartley House, Cranbrook will provide much-needed, high quality residential care home accommodation for the elderly and people suffering with dementia. Individuals interested in finding out more about the availability of rooms at Hartley House can call + 44 (0) 1580 713139 or make contact via the website hartleyhouse.co.uk.
jhd Architects is a RIBA Chartered practice with offices in Sevenoaks and Benenden, Kent, UK. It is one of very few architectural practices in the South East of England using Building Information Modelling (BIM) to design contemporary new houses, extensions, listed building projects, swimming pools and outdoor living spaces and health and leisure schemes for private clients in Kent, Sussex and surrounding towns and villages. For examples of their unique designs see their portfolio of architectural projects.
The firm designed the award-winning NHS Walk In Centre at St George's Hospital, Tooting, London, and many South London doctors' surgeries which have been praised for stylishly meeting the practical needs of all those who use them - in particular the disabled.
The practice actively supports the local community by, for example, arranging visits and talks on design and architecture for MidKent College design and carpentry students.
For further information:
jhd Architects
Cottenden, Stepneyford Lane
Benenden, Cranbrook
Kent TN17 4BW
01580 243070
http://www.jhdarchitects.co.uk
Modern Kent Architecture Firm jhd Architects Offers Kent and Sussex Homeowners Advice on Home Designs and House Extensions to Raise Funds for the Homeless
This press release was prepared by Bobrow Consulting Group (http://www.bobrow.com) for jhd Architects. BCG works with building design professionals to build their business by optimizing their online strategy, teaching marketing for architecture firms as well as offering web design and SEO consulting services.