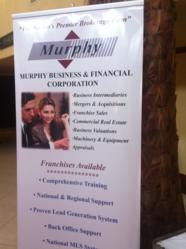 Murphy Business & Financial Corporation is "Creating the New Norm" in the industry
Atlanta, GA (PRWEB) May 26, 2011
Business Brokers from Atlanta, Georgia and all across the country arrived last week in St. Petersburg, Florida to attend advanced continuing educational classes offered by the International Business Brokers Association (IBBA). The event was hosted by Murphy Business & Financial Corporation and is part of their annual conference for its members.
The IBBA educational classes included "Managing the Due Diligence Process", "Understanding Financials" and "Understanding Tax Returns".
Atlanta Business Broker Kent Reed attended all of the advanced level classes as well as the Murphy Business & Financial Corporation Educational Conference that included guest speakers from around the world. The 5 day event was attended by hundreds of Business Brokers and it part of Murphy Business & Financial Corporation's commitment to educating and retaining the best business brokers in North America.
Kent Reed is President of the North Atlanta office of Murphy Business & Financial Corporation. Murphy Business and Financial Corp is one of the largest and most successful business brokerage firms in North America with business brokers conveniently located throughout the United States and Canada. MBFC specializes in businesses for sale, franchises, business valuations, and commercial real estate.
###