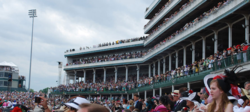 "DerbyDeals.com is excited to be a small part of LudaDay weekend and the support it gives to numerous community activities and initiatives"
New Albany, IN (PRWEB) August 31, 2012
DerbyDeals.com, a ticket and entertainment events specialist focusing on premier Kentucky Derby Tickets and all-inclusive Kentucky Derby Packages for companies and indviduals worldwide, is proud to announce that they will be a contributor to the 7th Annual LudaDay Weekend in Atlanta, GA during Labor Day weekend. LudaDay Weekend is an annual event hosted by world renowned hip hop artist Ludacris and its primary goal is to help underprivileged families and children in the city of Atlanta.
In the past LudaDay Weekend has been able to donate money to local charities, give cars to needy families, and supply the local Boys & Girls Club and others with thousands of pairs of shoes. Giving back to the community is an important part of the LudaDay Weekend and Ludacris has been joined by other celebrities such as Kevin Hart, Paul Walker, Justin Bieber, Kevin Durant, Chris Paul, Carmelo Anthony, Ciara, Nelly, and Vin Diesel over the years.
DerbyDeals.com has donated thousands of dollars in gift certificates to supplement the celebrity gift bags that are supplied to the event by Style Icon LLC of Louisville, Kentucky. The primary sponsors and contributors of the event, in addition to Ludacris, include Ebony Son Management, Disturbing Tha Peace Records, and Soul by Ludacris headphones. LudaDay Weekend is scheduled to kick-off on Thursday, August 30th, with a welcome party at the Vanquish nightclub, and will culminate with a Splash Waterfalls pool party on Monday, September 3rd. Tickets for the planned events can be purchased through the Disturbing Tha Peace Records website.
DerbyDeals.com offers premium Kentucky Derby tickets, accommodations, transportation arrangements, and VIP party access for the annual Run for the Roses at Churchill Downs in Louisville, Kentucky each year through their website at http://www.DerbyDeals.com. "DerbyDeals.com is excited to be a small part of LudaDay weekend and the support it gives to numerous community activities and initiatives" explains company spokesman Mike Davidson of DerbyDeals.com."