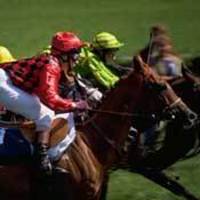 People really get into the tradition of the race - from the food to the fashion. Going to the Kentucky Derby is fun and is as much a party as a sports event. Celebrities show up, the music plays and everyone sings along
Riverdale, NJ (PRWEB) April 22, 2009
Tickets to the 135th Kentucky Derby are now available at SelectATicket.com. The Kentucky Derby will start on Saturday May 2, 2009 in Louisville Kentucky. It is the longest running sports event in the U.S.
Since 1875 thousand of fans gather each year to watch one of the three races which makeup the Triple Crown. The Derby caps the two-week Kentucky Derby Festival. Many traditions mark the event which is as much a party as a horse race.
There are traditional drinks like The Mint Julep. Traditional food includes a vegetable lamb stew called Burgoo. It is served from large pots that can be up to 10 feet in diameter. Then there is the game of fashion where the rich and famous come to see and be seen on "Millionaire's Row." On Derby Day celebrities like Bo Derek, Michael Jordan, or even Donald Trump could show up. As for women, they still wear dresses, big hats, and carry fancy umbrellas.
Music is also part of the fun. The horses parade in front of the crowd while the song "My Old Kentucky Home" is played by the University of Louisville marching band. Everyone stands and sings along. This year marks a new tradition. Country music star LeAnn Rimes will be the first national recording artist to sing "The Star-Spangled Banner" at the historic racetrack as part of the Derby Day ceremonies.
"People really get into the tradition of the race - from the food to the fashion. Going to the Kentucky Derby is fun and is as much a party as a sports event. Celebrities show up, the music plays and everyone sings along," said Tara Rau, Vice President of Acquisitions and Risk Management at SelectATicket.com.
The favorites this year include I Want Revenge and Wood Memorial. Old Fashioned and Mishipman were both injured recently and are no longer contenders. Giant Oak, the Illinois Derby runner-up is not going to compete in this year's race.
A winner, as usual, will be presented with a garland of red roses and a trophy.
SelectATicket also has tickets to the Kentucky Derby's Sister race -- Kentucky Oaks. It will be held May 1, 2009.
About SelectATicket.com
SelectATicket has been in the ticketing industry since 1978 and is one of the oldest and most respected ticket brokers. SelectATicket is a proud member of the National Association of Ticket Brokers (NATB).
With over 30 years of experience, a physical storefront location in addition to our web site at http://www.selectaticket.com, we'll find Kentucky Derby tickets for any budget.
###