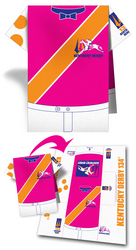 Our graphic design team has done a brilliant job in making sure that Kentucky Derby JerseyNaps® embrace the vibrant colors and dynamic shapes traditionally associated with jockey silks
Ashland, WI (PRWEB) March 19, 2008
JerseyNaps® has signed an agreement with Churchill Downs, Inc., through its licensing agent IMG Licensing, to create a new line of Kentucky Derby Jockey Silks Napkins.
"Our graphic design team has done a brilliant job in making sure that Kentucky Derby JerseyNaps® embrace the vibrant colors and dynamic shapes traditionally associated with jockey silks," say JerseyNaps® Chief Operating Officer Gary LaPean. "This year's design is perfect for a Derby Party and for Kentucky Derby fans who want a great souvenir."
2008 Kentucky Derby Jockey Silks JerseyNaps® feature the hot pink and orange found in the official 134th Kentucky Derby logo, with polka dots on the sleeves and a diagonal stripe across the chest.
Kentucky Derby Jockey Silks Napkins are available now in the official Kentucy Derby online store at http://www.KentuckyDerby.com and at http://www.JerseyNaps.com. On race day, they will be available at Churchill Downs in the official on-site souvenir stands.
Kentucky Derby Jockey Silks mark JerseyNaps® first foray into horse racing and Derby parties. To date, the company has produced it patented shaped napkin in numerous NCAA football and baseball patterns, as well as an NBA design. Most recently JerseyNaps® were delivered in a NASCAR fire suit design for use in hospitality on the newly named Nationwide NASCAR Series.
About JerseyNaps®:
Establish a dynamic new product category, JerseyNaps® are high quality napkins folded into a patented shape that replicates a sports jersey, entertainment character, brand icon, seasonal costume or life event design
JerseyNaps® come folded to about 6.5" tall and unfold into a regular napkin, revealing more fun inside. Plus they can stand up.
Proudly made in the U.S.A. in a state-of-the art manufacturing facility located in Ashland, Wisconsin, JerseyNaps® are created from "green-friendly 100% recycled tissue.
For further information contact Lezlee Elliott at 678-720-0702 or visit http://www.JerseyNaps.com .
# # #