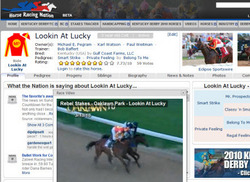 Fans can find every Kentucky Derby runner's past races, pedigree, news, photos, comments and even betting suggestions...
Bossier City, LA (PRWEB) April 28, 2010
Today HorseRacingNation.com announced its latest Kentucky Derby features, including complete contender profiles, free replays for all preps races, free wagering strategies and an iPad giveaway for those who think they can pick the winner of Saturday's Run for the Roses.
Derby contender profiles
From Derby favorite Lookin at Lucky to longshot Mission Impazible, HorseRacingNation.com has extensive profiles of all contenders. Racing fans can find every Kentucky Derby runner's past races, pedigree, news, photos, comments and even betting suggestions from the racing community. All of the profiles are free and information is supplied by the racing community in this wiki site.
Free race replays of all Kentucky Derby contenders
One of the highlights of the site is the free race replays for each of the 20 Kentucky Derby runners. The race replays are available as part of the Kentucky Derby 2010 contenders special section and a critical factor in preparation and handicapping the race.
Free Kentucky Derby selections and wagering tips
For free Derby picks and wagering strategies, HorseRacingNation.com is the perfect destination. Fans can share their thoughts or read through the 'Plays of the Day' Kentucky Derby selections posted by expert handicappers and racing enthusiasts alike.
Win a free iPad contest
Visitors can also enter Horse Racing Nation's Kentucky Derby contest to win a free 16GB Apple iPad. The contest requires visitors to correctly select the winner and margin of victory. If there is more than one correct entry, a winner will be chosen randomly from all correct responses. See HorseRacingNation.com for complete rules and details.
Preakness Stakes coverage
After the Derby, visitors should stick with Horse Racing Nation for complete wrap-up coverage of the Kentucky Derby, plus coverage of the 2010 Preakness Stakes starting the minute the Derby field crosses the wire.
About HorseRacingNation.com
Horse Racing Nation is a fan-powered horse racing community with horse profiles, race results, video replays, photos and free selections, all powered by the horse racing community. Horse Racing Nation was launched in April 2009 and features unique elements for horse racing fans including Stakes Tracker, a constantly updated profile of upcoming stakes races, and the Derby Power Rankings, a fan-based ranking of all 372 Triple Crown contenders.
###