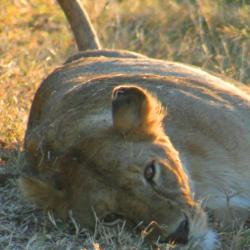 "Tourism key players say that Kenya safari and Tanzania safari package surcharges will range between 15% to 20%..."
--ETurboNews
New York, NY (PRWEB) June 29, 2011
Odyssey Safaris is giving travelers a chance to avoid price increases by offering their 2012 safaris at 2011 prices for those who book by Nov. 1st. With Kenya raising park entry fees in 2012 and Tanzania raising them last year along with higher prices for almost everything, it is expected that 2012 will bring record prices.
According to eTurboNews: "Tourism key players say that Tanzania's safari package surcharges will range between 15% to 20% , depending on the length of the trip due to increases in fuel prices and operating expenses. By any standard, the price of a Kenya safari will do the same and prices will increase between 15 to 20% come October of 2011."
This means substantial savings for Odyssey Safaris travelers who lock in their safari price now before accommodation and fuel providers raise their prices. This will also allow clients to lock in airfare at the earliest possible date for additional savings.
Odyssey Safaris is a safari boutique that designs a personalized safari around the client's wishes.
"Our guides have 20 years' travel experience throughout east Africa," Managing Director Mark Cahill said. "This is specialty travel, where one safari does not work for every client. We will work with you to custom design a private, personalized, safe Africa safari experience with trips to some of the most spectacular national parks and reserves in east Africa. You go where you want to go, see what you want to see and do what you want to do in a private vehicle with your very own English-speaking naturalist guide."
Travelers may view Kenya Safaris and Tanzania Safaris on Odyssey Safaris east Africa safari website. These safaris serve as an example and clients can purchase them as advertised or change or add options on every safari tour. Because its safaris are not pre-packaged, Odyssey Safaris does not include international airfare in its prices, but can assist with travel arrangements.
In addition to customizing their safaris, Odyssey Safaris also includes:
Private transport in a luxury 4x4 safari vehicle
Guaranteed window seat
All accommodation
All meals
All national park, reserve, and conservation fees
Unlimited game drives
All transportation including airport transfers
Complimentary bottled water daily
Complimentary enrollment emergency air evacuation service
Services of an English speaking driver/guide
"Many clients forget to ask about game drives before booking a safari and don't realize they will only game drive for 1 or 2 hours in the morning and the same in the evening," Safari Operations Director Eliud Karimi said. "If a safari company doesn't tell you they offer unlimited game drives they probably don't and that means a lot of time at the lodge or paying extra for more game drives."
For more information or to book a safari visit http://www.odysseysafaris.com or call 855-2SAFARI
About Odyssey Safaris
Founded in 2004 Odyssey Safaris immediately sought to address the need for outstanding customer service and the extra value that customized safaris offer. Working with the local knowledge of partner and Safari Operations Director Eliud Karimi and staff, Managing Director Mark Cahill provides information and insight to travelers to assist them in creating the perfect Kenya or Tanzania safari. The companies extra-net on their website and offices in the US and Kenya provide 24 hour support to travelers and travel agents to manage their travel details.
"The destinations in east Africa are incredible and clients are obviously thrilled with that part of the trip, but what really makes a safari special is the people who execute it for you, the guide, the planner and support staff, said Managing Director Mark Cahill. "Once your on the plane to east Africa professionalism is extremely important and our clients are exceedingly impressed with our staff and some have remained friends; its a priceless value add."
Odyssey Safaris is a member of the Association for the Promotion of Tourism (APTA) to Africa and the Africa Travel Association (ATA).
View all of Odyssey Safaris Kenya Safaris, Tanzania Safaris and Kenya and Tanzania safari products.
Read about all of the steps Odyssey Safaris takes to make your trip as enjoyable as possible: Safe Safari Travel
Contact
Mark Cahill
Odyssey Safaris
1-855-2SAFARI
###