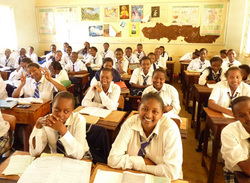 Education is the Most Powerful Weapon which you can use to Change the World - Nelson Mandela
New York, NY (PRWEB) July 29, 2010
In 2005, Lakeville Kitchen and Bath's president, Richard Sirlin, gave $100 to a former Peace Corps Volunteer, Brad Broder, while he was boarding a plane leaving for Kenya. "Do something good with this," were Richard's only instructions. With that small gift, Brad enrolled a poor village girl, named Amina, in school. Today, more than 600 poor and orphaned high school students owe a debt of gratitude to Lakeville and Richard Sirlin for their fundamental role in helping create the Kenya Education Fund (KEF).
Nelson Mandela said, "Education is the most powerful weapon which you can use to change the world." The KEF sponsors the education of hundreds of Kenyan students allowing them to develop their most valuable asset… their minds. By giving them the confidence and skills to pull themselves out of poverty, the KEF is working towards the day when Kenyans will not be dependent on aid and can become a positive force for change, both in their country and globally. The KEF is based on the philosophy that a well-educated population is the foundation to breaking the vicious cycle of poverty.
Daily, the KEF improves schools by helping them acquire and set up computer labs so that students will have the necessary skill set of basic literacy and computer proficiency, skills unheard of in much of Africa, to bridge the digital divide and adequately prepare them for college, the job market, and beyond. To date, the KEF has donated over 700 computers to dozens of schools throughout Kenya.
Additionally, the KEF provides extensive HIV/AIDS Teacher Training. In a country with an estimated 2 million people living with HIV/AIDS, this program offers educational resources for all teachers in KEF partner schools to highlight the gravity of this epidemic, and through education, dispel myths and promote awareness and prevention. The KEF facilitates the creation of after-school Health Awareness clubs where students participate in youth-empowerment and peer-teaching projects.
The fund's website, chronicles the achievements of each student, with up-to-date photos and detailed school progress reports. For each student, you have the ability to view their report card, and realize the tangible and profound difference a single donation, the gift of education, has on these children.
Of the many New York businesses and professionals that now support the work of the Kenya Education Fund, Lakeville Kitchen and Bath holds a special place in the charity's history. Starting with Mr. Sirlin's initial $100, his company has since contributed over $12,000 to helping Kenya's poorest children complete high school, and gain a chance to change their future for the better. Richard has also made a personal commitment to the KEF by serving as the organization's Vice President, and a member of the Board of Directors.
In 2007, the fund organized a trip to Kenya, allowing their donors the rare and touching experience of meeting the students they help support, in the schools they helped equip. The opportunity to connect these children, with their sponsors from half a world away, transcended progress reports and updates, enabling a sense of community and understanding that spanned continents. Amongst these talented children was Amina, the Kenya Education Fund's first student, and who Richard Sirlin describes as "His family's newest overseas member."
Each year, Amina and the Lakeville family exchange hand-written letters and gift packages that have created a strong bond between them, whilst improving their understanding of one another's cultures. As the direct sponsor of Amina's education, Lakeville continues to invest in a brighter tomorrow for Amina, Kenya, Africa and the world. Were it not for the generosity and humanitarian vision of Lakeville's president, Richard Sirlin, the KEF would not be there to bring hope to hundreds of kids like Amina who are too poor to access high school education in their own country.
To find out more about the Kenya Education Fund and how you can give the gift of education to a poor child in Kenya, please visit our website at http://www.KenyaEducationFund.org
Lakeville Kitchen & Bath is proud to support such a humanitarian and essential organization like the Kenya Education Fund. Its mission to empower people through education, is both commendable and inspirational and Lakeville urges those who wish to change the future, to visit the fund's website, listed above.
http://www.LakevilleIndustries.com
About Lakeville Kitchen & Bath:
In 1935, the Sirlin brothers, Morris, Jack and Louis, founded Lakeville Manufacturing Company. Over the course of 75 years, Lakeville has remained owned and operated by the Sirlin family. For three generations, the very core of Lakeville's business philosophy has remained unchanged… Complete dedication to their customers.
Lakeville Kitchen & Bath offers the Long Island community, both Building Trade Professionals and Homeowners, as well as the greater Tri-State areas of New York, New Jersey and Connecticut, the highest level of Kitchen & Bathroom Cabinetry Design and expertise. Lakeville offers a vast and detailed range of cabinetry from world-renowned domestic manufacturers such as Medallion Cabinetry, Plain & Fancy Cabinetry, Crystal Cabinets, HomeCrest and UltraCraft cabinets.
Additionally, Lakeville has an extensive selection of elegant hardware and accessories, as well as robust, durable and eco-friendly countertop solutions. All Lakeville employees are skillfully trained and exceptional in design in order to make your kitchen, bath or cabinetry design project a reality.
Lakeville has two Premier Kitchen & Bathroom Cabinetry and Design showrooms located on Long Island, New York, in the towns of Lindenhurst, and now with the opening of their second showroom in Smithtown, NY.
Lakeville Kitchen & Bath Website
About the Kenya Education Fund:
The KEF is a small 501(c)3 nonprofit organization dedicated to providing high quality secondary school education to Kenyan students. In Kenya, high school is not free. As a result, many impoverished students are restricted from reaching their educational and career goals due to a lack of school fees.
The Kenya Education Fund sponsors students directly, paying individuals' school fees for all four years of high school (boarding) as well as ensuring that students receive the support they need to succeed in school. Even more, the KEF supports the schools in which students are placed through the provision of computers, and the implementation of teacher training programs. Currently, the KEF has roughly 475 students sponsored in over 200 schools across Kenya.
Kenya Education Funds Key Components:

Direct sponsorship of Kenyan students by American and Kenyan sponsors.
KEF facilitates university sponsorships within Kenya for our high school graduates whose sponsors wish to continue with their support.
KEF helps our partnership schools to acquire technology and school renovations in exchange for waiving school fees for poor student.
The KEF is not project-based, but people-based. Building the capacity of Kenyans through education creates progressive thinkers, who no longer depend on NGOs to solve their problems.
The Kenya Education Fund Website
# # #