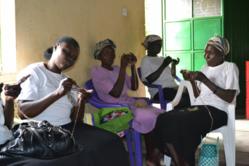 Indianapolis, Indiana (PRWEB) January 30, 2013
There's a place in Indianapolis where the lives of tribal women in remote Kenya intersect with lives of Indiana women, with heart-warming, life-altering results. It started in the remote village of Kager, Kenya, where life in 2013 will be very different --- all because some spirited women in our community saw a need and decided to make a lasting impact on the lives of some remarkable women in Kenya, 8000 miles away.
Just a few months ago Westfield resident Linn Asbury was on a mission trip in Kenya, chatting with native women of the Luo tribe, one of Kenya's poorest tribes. "I'll never forget sitting on the ground with a group of women, just chatting, when one pulled a hank of yellow yarn from a bag and began crocheting. CROCHETING!" How did this yarn, a crochet hook and the knowledge to use them ever reach this woman in the middle of no-where, western Kenya? It was astonishing to see, but even more compelling was to hear what this woman named Gladys intended to do with her crocheted work. "I will take them to the market (about a 20-mile walk), and try to sell them to ladies for their houses." Any money Gladys might earn would be used to buy life's necessities---and maybe even a little soap.
How did Gladys learn to crochet? That will continue to be a mystery. How did she find money to purchase yarn? She doesn't remember who, but someone gave her the yarn long ago. Gladys saw an opportunity and she was determined to take advantage of it. Linn immediately saw another opportunity – to leverage Gladys' knowledge to teach other women in Kager to crochet, then bring their goods back to Indiana to sell, providing steady income for Kager's women. The fair-trade women's cooperative, Jubilee Spree, was formed shortly after, and a global liaison between Kager and Indiana was forged.
In the months since Linn first saw Gladys crocheting, 32 women have learned the skill and made hundreds of adorable, one-of-a-kind hats. These hats are mostly for babies and young children, guaranteed to bring a smile or outright laughter. The base crocheting is completed in Kager, then local Indianapolis women volunteers gather regularly to add embellishments which give each hat a distinct, joyful personality. Proceeds from the sale of these hats go directly to Kenyan women as part of JubileeSpree's program, with 10% dedicated to fund vocational training for Kager's girls to learn to crochet, giving them hope for a future better than one they have seen until now.
These one-of-a-kind hats are showcased at http://www.jubileespree.com and have been made available at unique locations in the cities/towns that are close to the volunteer station, those locations are highlighter at MyGoTo-HamiltonCountyIN.com when they are scheduled. Since no two hats are the same, inventory on the website is constantly changing, with new ones added nearly every day to replace those sold. Jubilee Spree's goal is "Empowering and Equipping Women to Change their World." There's no doubt, hundreds of lives in Kager are being positively changed, while many Hoosier women are reaping the joyful harvest of their contributions to the project. For anyone looking for a place to make a real impact through volunteering, JubileeSpree would be a great opportunity!