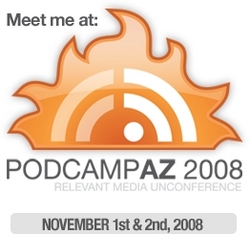 We are honored to be a part of this innovative digital marketing event
Phoenix, AZ (PRWEB) October 31, 2008
Internet marketing and website design firm KEO Marketing announced today that they are sponsoring a unique digital marketing event this weekend in Phoenix called PodCampAZ.
PodCamp is a free BarCamp-style community UnConference for podcasters and listeners, bloggers and readers, and anyone interested in New Media. It was held for the first time in September in Boston, Massachusetts and is now spreading across the world.
PodCampAZ will take place locally this weekend, November 1-2, 2008 at the University of Advancing Technology in Phoenix.
PodCampAZ will feature new media innovators and traditional media movers. Speakers include social media experts, internet and interactive marketing and advertising pros, business owners, students and more. This year the conference has more than doubled in size. Organizers have expanded PodCamp AZ to a 2-day event in order to get the highest amount of interaction between participants
"We are honored to be a part of this innovative digital marketing event," said Sheila Kloefkorn, President of KEO Marketing. "It gives us an opportunity to get together with people who share our passion for connecting businesses and their customers through the power of new media."
Interested individuals may register to attend PodCampAZ by visiting PodCampAZ.
About KEO Marketing:
Is your website your best salesperson? If not, it can be. KEO Marketing was founded in 2000 and specializes in search engine optimization and marketing, online advertising, social networking, and affiliate marketing. KEO Marketing is dedicated to building an effective online strategy that is both search informed and built around your existing and future offline marketing initiatives.
KEO Marketing delivers innovative marketing solutions designed to help your business achieve tangible results. Specializing in online marketing strategy and solutions, KEO Marketing has helped Fortune 1000 companies as well as small and medium sized businesses achieve their marketing and sales goals.
We start by understanding your business and your marketing plans. We build on that with research to identify how your customers find your products and services. Then we tailor a strategy for you based on proven experience and a thorough understanding of the online marketplace. We believe it's more than having a beautiful website. It's about making that website work for you.
Visit KEO Marketing online at KEOMarketing.com.
###