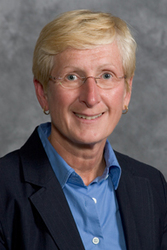 Harrisburg, PA (Vocus) February 6, 2009
Alice Stollenwerk Petrulis , MD, FACP, has been appointed to the National Quality Forum (NQF) Care Coordination Committee. Dr. Petrulis, a nationally recognized leader in health care quality improvement and care management, will work with other leading health experts to endorse a set of preferred practices and performance measures for care coordination.
Dr. Petrulis, Chief Medical Officer for KePRO , has been an integral part of NQF for many years, having served as co-chair of the Ambulatory Steering Committee and a member of the Mammography Steering Committee. She is Board certified in internal medicine and nephrology, and licensed in Ohio. She received her Bachelor of Arts degree from Washington University, St. Louis, Missouri, and her medical degree from The Ohio State University.
Dr. Petrulis is an adjunct professor of medicine at Case Western Reserve University, and has authored numerous articles and presentations, and has been published in the New England Journal of Medicine, the Journal of General Internal Medicine, and the Journal of the American Medical Association, to name a few.
About KePRO
KePRO, a leading quality improvement and care management organization, offers innovative and outcomes-focused solutions to reduce the utilization of health care resources and optimize quality of care for public and commercial clients. KePRO's comprehensive, member centric care management solutions go far beyond traditional utilization and case management by coordinating the care provided to members with acute, chronic and complex conditions across the continuum, and identifying members who are at the highest risk for future services, but have not yet had an acute event. Tailored programs maximize members' quality of life, and realize greater cost savings for members and clients.
Headquartered in Pennsylvania, KePRO also has offices in Florida, Maryland, Ohio, Tennessee, and Virginia. KePRO is URAC health utilization management and case management accredited. For more information, visit http://www.kepro.org.
For more information contact:
Joanne Benteler
Public Relations Director
717.265.7004
# # #