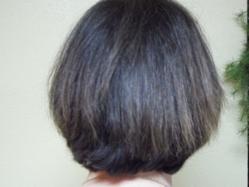 It brought tears to my eyes because I thought my hair was permanently damaged and beyond repair.
San Antonio, TX (PRWEB) December 01, 2011
As the major consumers of hair, skin and beauty products, women all over the world are used to products that promise to make us look younger, have more vibrant healthy skin and hair, save us from split ends and so much more, but then fail to deliver.
All that is about to change with a new product release from Keraplast Technologies LLC. Called "Hair Rescue," this new salon back bar product absolutely lives up to its promises. The key innovation in Hair Rescue is Replicine Functional Keratin, which allows this product to penetrate the hair shaft and give durable repair from the inside the fibre, rather than simply coating the hair for short term benefit often seen in other treatments.
According to the Keraplast Research Director, Dr Rob Kelly, Hair Rescue has been designed to repair hair damaged by heat, color treatments, straightening, styling and exposure to the elements. Clinical research with volunteers, and assessed by a panel of salon professionals demonstrated that damaged hair was in better condition, had stronger ends, was shinier, better nourished, softer and silkier following hair rescue treatment. Scientific testing showed the hair to be measurably stronger than hair treated with other top brand treatments claiming to repair.
"We tested the product on a variety of types of hair damage, including strong bleach, gray hair colored with permanent color, multiple perms and extensive flat ironing.
"Our expert panel consistently rated the Hair Rescue treated hair far higher for strength, shine, condition and softness. Because it was a blind panel test, they had no idea if they were seeing the Hair Rescue group or the group that hadn't had the treatment."
Volunteers who had received the treatment were excited about the results, with comments like "My hair was full of volume, and felt wonderful…" and "It brought tears to my eyes because I thought my hair was permanently damaged and beyond repair."
The verified results of Hair Rescue include:

80% less breakage
97% improvement in shine
83% boost in color symmetry
78% more natural looking color
Keraplast's Hair Rescue is available now for salons throughout the US to order. It is a salon only treatment, which can be carried out easily by staff without extensive training.
The response from salons and customers to date has been very positive, and Keraplast are looking forward to seeing the Hair Rescue service being made available to salon customers across the country.
To join the early adopters at the forefront of this hair care innovation by stocking Keraplast Hair Rescue in your salon, or to learn more about the benefits of Replicine Functional Keratin technology, contact Keraplast on 210 494 5596 or email the company on info(at)keraplast(dot)com or contact through http://www.keraplast.com
# # #