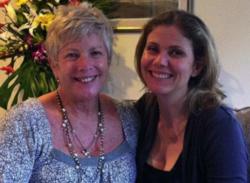 It was only a matter of time before the search engines went into bat for the searching public
(PRWEB) April 30, 2012
Since 2007 Kerry Finch has been providing quality written content for online businesses - her clients' and her own. In that time search engine optimization (SEO) became increasingly important to her clients, and many embraced strategies, tools and services that tried to influence the search results delivered by the likes of Google. Now, however, she finds that those marketers are returning to the basics, and reaping the rewards.
Last week, the author of the immensely popular book 'Mumpreneurs Online Exposed', Fiona Lewis, interviewed Ms Finch with a view to learning why the premium content that Kerry provides continues to be so sought after by marketers.
"This is a time of turmoil for internet marketers who have been, and continue to be, penalized by the search engines for trying to beat the system in the quest for better rankings in search results" Ms Finch explains. "You see, in the process of being clever, and embracing sometimes dubious strategies that improved their, and their clients' website rankings, many lost sight of the fact that online searchers are looking for real and relevant information. It was only a matter of time before the search engines went into bat for the searching public."
"Automated blog networks, article spinning software, and poor quality content combined to become the straw that broke the camel's back" she said. "By penalizing, or completely removing from their indexes, those low quality sites that contain poor quality, rehashed and duplicate content - the search engines are ensuring that the cream is now rising to the top."
"There is nothing wrong with SEO per se" said Kerry. "There are SEO strategies that are acceptable to Google - in fact, Google encourages them because they improve the browsing experience of internet users. Knowing what they are and avoiding the too-good-to-be-true shortcuts is what is important."
In the interview Ms Finch also discusses some of the other things that Google in particular is looking for when ranking a website, including having any banner ads 'below the fold' i.e. having original content at the top of website pages, before any overt advertising.
To tap into the interview visit KerryFinchWriting.com, and the post at http://www.kerryfinchwriting.com/google-panda-content-creation-tips-interview/
About Kerry Finch Writing
Specializing in providing writing services to online businesses and internet marketing consultants, Kerry Finch Writing sets and maintains the high standards needed for well-researched premium written content, with the knowledge that uniqueness and relevance are rewarded by great rankings from the search engines.
Kerry Finch Writing offers premium, unique content to those companies and individuals who understand the importance of growing their websites over time.
Services encompass the whole gamut of writing styles needed for successful search engine optimization and internet marketing campaigns along with online press releases and campaign strategies.