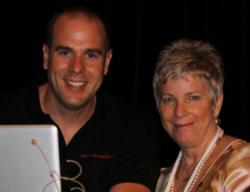 (PRWEB) October 31, 2011
One of the premium online business training events on the internet marketing calender, James Schramko's Fast Web Formula 3, has just wrapped in Queensland, Australia. The event organizer, Kerry Finch, in a post to her website kerryfinchwriting.com, has now revealed what it takes to make this event so successful.
"On the surface, the success of a conference or training event is measured by the benefit it delivers to those attend, and in the case of Fast Web Formula, the amount of useful and cutting-edge content is indisputable" said Ms Finch.
"However, ensuring that the event runs seamlessly, plays a vital role in the delegates' learning experience" she continued. "Ease of registration, friendly and helpful event crew, and comfortable speakers -- all go a long way to creating a great learning environment."
In a recent post to her kerryfinchwriting.com website, Ms Finch has detailed some of key steps to follow in running an event such as Fast Web Formula. They include:
> Handpicking your event crew: they need to be proactive and committed to ensuring the success of the event.
> Providing your crew with a document that clearly outlines expectations, balanced by the benefits to them of participation.
> Making speakers and presenters feel special. Have at least one crew member who is dedicated to speakers' needs, who will receive them on arrival, note how they like their coffee, remind them of when their presentation time approaches, ensure their mics are functioning and comfortable.
> Ensure crew members are easily identifiable: provide them with special clothing that distinguishes them from the audience. In the case of FastWebFormula, the crew receive special T-shirts.
> Introduce the crew to the audience. This shows the delegates who to approach for help, and it makes crew members feel special.
> Checklists -- this was also revealed by James Schramko, in his presentation, as a way to manage both small and large projects. For an event, Ms Finches checklists include - crew briefing, crew registration, speaker registration, set up, pack down, dinner invitations.
"We had speakers and delegates from Australia, the UK, USA, Canada, Singapore and the United Arab Emirates at Fast Web Formula" said Ms Finch "but we successfully created an environment that promoted networking, business collaboration and shared learning."
"The strategies, tools and business models revealed by our presenters combined to be the catalyst for animated conversations during the break, and at the many cafes and restaurants in Caloundra, Queensland, that hosted our delegates."
The digital recordings of the event may be ordered at http://www.fastwebformulas.com
About Fast Web Formula 3
FastWebFormula 3 was a 3 day live training event created by James Schramko, which was held from 27-30 October, 2011. Two hundred of the most active internet marketers in the world gathered to learn the most recent strategies for online business success, to hear about trends and yet-to-be released tools. Fast Web Formula 3 had a focus on improving and growing businesses, through innovation and strategic thinking. Digital recordings are available at http://www.fastwebformulas.com
About Kerry Finch
Kerry Finch is the principal of Kerry Finch Writing Pty Ltd, and provides a specialist writing service for online businesses which understand the need for quality search engine optimized content for their websites, for external publishing, and for reputation management. The creation of online press releases for SEO is a speciality. Her website is kerryfinchwriting.com
###