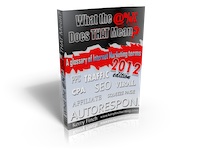 What the @%!* Does THAT Mean? has always been free, and can be downloaded from either kerryfinchwriting.com or obra.com.au
Queensland, Australia (PRWEB) January 31, 2012
Kerry Finch has just released the third, and still free, edition of her popular glossary of internet marketing terms, 'What the @%!* Does THAT Mean?'. A whole stack of new terms have been collected for the 2012 edition, which will help both newcomers and old hands who want to understand and stay in touch with the semantics of this dynamic industry.
When she first entered the world of internet marketing back in 2007, online writing professional Kerry Finch, encountered the unique terms used by those already active in this nuanced community. Despite having an extensive marketing/public relations background, it became obvious to her that the offline meaning of some terms were very different to their meaning to online communities.
Over the next few years she began to keep a record of those terms, and their meanings, for her own use, but it was as a result of her involvement in a highly regarded internet marketing forum that she created a more formal document.
"Every day there were new people joining the forum, many of whom were complete novices. In the spirit of the forum, I offered my collection of terms to anyone who was interested" said Kerry. "I was overwhelmed by the response, and over the next year spent some time streamlining its format and adding more terms as they emerged."
From its first simple version, it is now an attractive ebook of over 100 pages, filled with internet marketing terminology - from 'absolute link' to 'Z-index'.
"What the @%!* Does THAT Mean? has always been free, and can be downloaded from either kerryfinchwriting.com or obra.com.au" said Kerry.
Kerry also offers a Resale Rights version of the Glossary - a great giveaway or bonus for other internet marketers. The new version is to be released in early February, and purchasers of the previous version are sent the 2012 Edition automatically.
Download your free copy of 'What the @%!* Does THAT Mean?' at http://www.kerryfinchwriting.com
About Kerry Finch
Kerry Finch provides website writing services to online businesses and internet marketing consultants, through both DFYContent.com and KerryFinchWriting.com. She sets and maintains the high standards needed for well-researched premium SEO content, with the knowledge that uniqueness and relevance are rewarded by great rankings from the search engines. Together with her team (which comprises great writers from Australia, USA, Philippines, Canada and the UK) she provides premium, relevant content to those companies and individuals who understand the importance of growing their websites over time. Some of her writers are specialists in certain niches: the law, internet marketing, the environmental, trades, health and fitness;  others can turn their hands to just about any topic. Over many years she has assembled and coached them in the techniques that are required to write for the nuanced communities that comprise 'online business.'
Kerry has a background in administration, marketing and public relations, and has established an enviable reputation and solid relationships with some of the elite of the online business world.  She has created several information products (ebooks) and one training course on writing for the internet, and has compiled a free glossary of internet marketing terms called "What the @%!* Does THAT Mean?"
Additional qualifications:
Diploma in Marketing Management
Member Internet Marketing Association
Member, Australian Society of Authors
Member, Internet Society of Australia
Diamond Author, Ezinearticles.com
For details about her new DFYContent written website copy service, visit DFYContent.com.
###