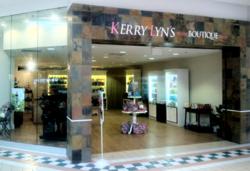 Shoppers have been saying they need an upscale shop in Aviation Mall.
Queensbury, NY (PRWEB) April 18, 2012
On Saturday, April 14th, Kerry Lyn's Boutique opened for business in Aviation Mall, located in Queensbury, NY. Kerry Lyn's Boutique offers a large selection of Vera Bradley products, including plenty of options in the new summer colors: Lime's Up, Doodle Daisy, Priscilla Pink and Summer Cottage. The store has a wide range of Vera Bradley totes, wallets, wristlets, handbags, stationary, accessories, cases and more that is coming! One lucky person who stopped in over the weekend won a Vera Bradley Rosy Posies Tote just for filling out an entry form. The boutique plans on offering regular giveaways to people who stop in and visit and follow them online via Facebook and Twitter. There is currently a Crabtree & Evelyn Giveaway on Kerry Lyn's Boutique Website and another in store giveaway for a $50 gift certificate that will be drawn at the end of the month (4/30/12).
Crabtree & Evelyn is another exciting brand that Kerry Lyn's Boutique has brought to Aviation Mall. Crabtree & Evelyn is known for their fine body and skin care products. The Crabtree & Evelyn Moisturising Hand Therapy followed by the Crabtree & Evelyn Skin Conditioning Hand Recovery is two step combination that rejuvenates your hands. If you have never experienced this wonderful combination, stop in to Kerry Lyn's Boutique for a demonstration and see what all the fuss is about!
Baggallini is another line of hand bags, purses and cross body bags that Kerry Lyn's Boutique offers. Baggallini was designed by flight attendants and are perfect for travelling, with tons of pockets for organization, hefty zippers and clips and a lightweight, yet durable feel. Baggallini is a wonderful addition, especially if the busy patterns of Vera Bradley aren't for you.
A third line of hand bags is the Harvey's Original Seatbelt Bag line. These bags are a big hit in California and Kerry Lyn's Boutique is proud to bring them across the country to offer them in their store. One would never think you could create a great looking purse just out of seatbelts, but Harvey's did. The bags are made in the USA and are guaranteed tough for life against manufacturers defects. Stand out in a crowd with one of these beautifully crafted handbags!
Kerry Lyn's Boutique rounds out it's product offerings with some Bluewick candles. These candles may look like just an ordinary candle but they are far from it. Bluewick candles are soy based candles, which burn much cleaner than a paraffin candle will. Soy based candles have longer burn times and they generally have stronger fragrances. If you are a candle person, it is highly recommend that you try one of the Bluewick candles!
Follow Kerry Lyn's Boutique on Facebook and Twitter for some great in-store and online deals. They also have a newsletter that you can sign up for to be notified of any specials, promotions and giveaways as well.