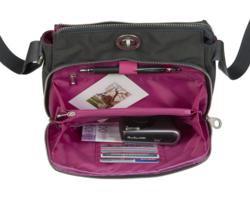 Hard to be the lightweight, durable, water-resistant crinkle nylon material used on Baggallini bags!
Glens Falls, NY (PRWEB) April 26, 2012
Kerry Lyn's Boutique is the newest shop that offers Baggallini products, both in store and on their website. Baggallini bags are designed to be ideal option for travel. Their products are primarily offered in wide range of colors using a durable, lightweight & water resistant crinkle nylon material. The bags are loaded with features to help stay organized, with tons of pockets, slots, and even hidden compartments, everything will have it's own place. These "baggs" are designed by flight attendants and approved by travelers across the globe.
The Baggallini International Collection names the bags after famous cities across the globe. The International Collection features a unique turn buckle that secures a pocket or compartment, distinguishing itself from other Baggallini collections.
Kerry Lyn's Boutique has most of their Baggallini offerings in the Classic Collection. The Classic Collection is offered in a wide range of styles including satchels, backpacks, cross body bags, totes, messenger bags and much more. All the styles are offered in a wide range of colors and still use the light, durable, water-resistant crinkle nylon material.
When looking for a new bag to travel with, look no further than the Baggallini baggs, the perfect blend of function, style and organization.
Kerry Lyn's Boutique is located in Aviation Mall, Queensbury, NY 12804 and currently offers Vera Bradley, Crabtree & Evelyn, Baggallini, Harveys Seatbelt Bags, Bluewick Candles and some jewelry. The boutique reaches to customers in Glens Falls, Lake George, Hudson Falls, Ticonderoga, Warrensburg, Bolton Landing, Fort Ann, Saratoga Springs, Malta, Lake Luzerne, and other surrounding areas. Follow Kerry Lyn's Boutique on Facebook and Twitter for some great in-store and online deals. They also have a newsletter that you can sign up for to be notified of any specials, promotions and giveaways as well.