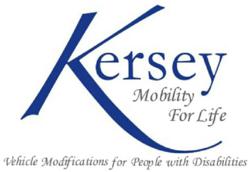 Spokane,WA (PRWEB) March 27, 2012
Kersey Mobility, a respected handicap van and mobility dealer throughout the Pacific Northwest, has today debuted innovative new service packages to provide their customers with more convenience and greater savings.
New service offerings from Kersey Mobility include the following:

Conversion equipment servicing plus lube, oil and filter change
Conversion equipment servicing plus lube, oil and filter change, and quick clean service
Kersey Mobility offers the entire service package (lube, oil and filter change, quick clean and conversion service) for less than most mobility dealers charge just for the conversion service alone. The new service packages were designed to provide customers with access to vital assistance, greater convenience and significant monetary savings.
For customers "on the fence" about the importance of having their handicap van maintained by a certified mobility dealer, Kersey Mobility points to the fact that standard oil change providers or mechanics might be capable of providing basic maintenance for the vehicle, but will be unable to maintain and service conversion systems. Proper maintenance and troubleshooting of these systems and equipment is vital for equipment longevity and maintaining optimum operability. Kersey Mobility urges all customers with conversion systems, lifts, etc. to ensure that their equipment is only serviced by a certified mobility technician with the education and training necessary to handle these delicate systems.
Thanks to the new service packages offered by Kersey Mobility, customers will find it more convenient than ever to ensure that not only is their vehicle's engine, transmission and other systems maintained, but that their conversion equipment is properly inspected, as well. The optional quick clean service also makes it simpler for individuals with physical disabilities to keep their handicap van clean and in good condition.
To find out more about Kersey Mobility's new service packages or to make an appointment for service, visit the company's website at http://www.KerseyMobility.com.
About Kersey Mobility: Kersey Mobility was founded in 1982 and has been serving residents of the Pacific Northwest for almost 30 years. The company is dedicated to providing their customers with the very best in mobility equipment and handicap accessible vehicles, as well as top-notch customer service and care.