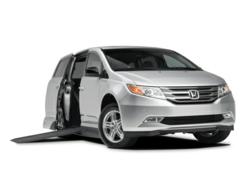 Spokane, WA (Vocus/PRWEB) April 19, 2011
Kersey Mobility, a one of the leading suppliers for wheelchair vans in Washington, is now debuting new 2011 wheelchair conversion vans. Not only does the company sell used and new van inventory from 2010 and before, but they now have 2011 vehicles from top manufacturers like Honda and Toyota, and with installations by VMI.
Some of their top selling handicap vehicles include the all-new 2011 Toyota Sienna with Rampvan and BraunAbility conversions, the 2011 Toyota Sienna with all-wheel drive and a Braun Rampvan XT conversion, and the 2011 Honda Odyssey EX-L with VMI Northstar Conversion, featuring a Flex Floor and power ramp. These 2011 models join many 2010 models waiting for a test drive, including Dodge Caravans, Chrysler Town and Country vehicles, and other Honda and Toyota models.
Kersey Mobility offers a large inventory of handicap vans, wheelchair lifts and scooter lifts, as well as custom made raised roof and raised door vehicles. The company is based in Spokane, Washington, and is the South Puget Sound area's authorized dealer for brand name installations like Braun and Vantage Mobility International.
The company serves the Greater Washington area. Among its customer-friendly policies are financing options, handicap van rentals, access to automotive service technicians, and custom made conversions. President Mike Kersey states that customized installations are his personal favorite project. "I love doing these unique installations…I love getting involved in [one]," he states. "We've installed hand controls on tractors, hotrods and custom made motorcycles."
Kersey Mobility was originally called Mobility Systems, Inc. but changed its name to distinguish itself from growing competition in the Pacific Northwest. Kersey not only serves the local Washington community, but has also sold handicap vans and wheelchair lifts to motorists in Idaho, Montana, Hawaii and Alaska.
For more information on Kersey Mobility conversions or VMI or Braun accessories, visit http://www.KerseyMobility.com.
About Kersey Mobility: Kersey Mobility is an authorized dealership based in Spokane, Washington but also has an office in Sumner. It advertises its mobility vehicles to motorists throughout Olympia, Tacoma, Yakima, Spokane, Seattle, and throughout Washington. The company is a family-owned business and was established in the year 1982 by Donald Kersey.
# # #