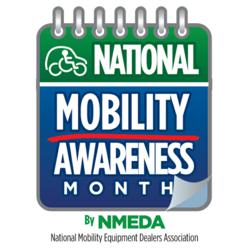 Spokane, WA (PRWEB) April 24, 2012
Kersey Mobility, a leading supplier of handicap vans and mobility equipment, has today announced they will be participating in National Mobility Awareness Month and joining in the celebratory contest created by the National Mobility Equipment Dealers Association.
National Mobility Awareness Month begins May 1 and is dedicated to helping promote awareness of individuals with physical disabilities, but also to help those individuals understand their options in mobility equipment and wheelchair accessible vehicles.
To celebrate National Mobility Awareness Month, NMEDA is sponsoring a contest that will award three winners with a brand new handicap accessible van from one of the world's top automakers, such as Honda, Toyota and Chrysler. All mobility equipment in these wheelchair vans and the conversions themselves are provided by NMEDA members, such as Vantage Mobility International and BraunAbility.
The contest allows individuals to submit stories of local heroism in the face of disabilities and overcoming adversity. Anyone can submit stories about heroes they know, and both local and national media will cover the contest. Friends, family and peers can vote for their favorite stories, increasing the chances that their favorite heroes will win. All winners will receive their prizes on national TV shows, including Good Morning America, Ellen and The Today Show.
Story submissions can be done in either of two ways. Submitters can send in a text story of no more than 400 words, or they can submit a video story of no more than 3 minutes (50MB). Customers of Kersey Mobility can contact the dealer for a special code to use when voting. Using the code gives five additional votes, helping improve the odds that a favorite story will win.
Submission of stories began on March 18, 2012 and runs through May 13, 2012. Voting for stories began April 1, 2012, and will run through May 13, 2012. Individuals can vote for their favorite stories once every 24 hours, but the special dealer promotional code can only be used once per voter.
To find out more about the contest and National Mobility Awareness Month, visit NMEDA here, or visit Kersey Mobility at http://www.KerseyMobility.com.
About Kersey Mobility: Kersey Mobility was founded in 1982 and has been serving residents of the Pacific Northwest for almost 30 years. The company is dedicated to providing their customers with the very best in mobility equipment and handicap accessible vehicles, as well as top-notch customer service and care.