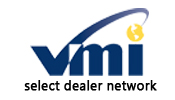 (PRWEB) December 19, 2011
Kersey Mobility has announced that they have associated with the VMI SDN (Select Dealer Network), to utilize the impressive system built by VMI through Mobility Sales.com.
The Select Dealer Network is an innovative resource designed to help VMI dealerships merge their powerful resources and create a dominant website whereby customers can reach each dealership in the organization. The domain chosen for this is MobilitySales.com, a site with a proven record and authority in the mobility industry.
Through MobilitySales.com, Kersey Mobility will receive a defined marketing area for marketing wheelchair vans and accessible products. This allows for more effective spending of Internet marketing funds, and allows Kersey Mobility to get their message before new clients.
In addition to better marketing strength and a significantly increased internet presence, Kersey Mobility receives full education in handling online customer leads and training on how to record leads through the system.
The Select Dealer Network has been enormously effective in a short time-- founded in 2008, the SDN has helped to bring in substantially higher numbers of buying customers than what any participating dealership experienced before its formation.
The SDN allows participating mobility dealers an opportunity to build shared insight into business concerns and the ability to strengthen connections within the industry. Dealerships are also able to enjoy a strong voice within VMI (Vantage Mobility International), as well as open, truthful conversation within the communication circle.
Kersey Mobility is committed to providing the best mobility services and custom handicap van conversions for their clients in the Pacific Northwest. They carry a large selection of wheelchair accessible conversion vans, handicap lifts, and mobility equipment to accommodate every budget and lifestyle.
Kersey Mobility is very delighted about being a part of the Select Dealer Network, and expects a mutually beneficial relationship with all members.
About Kersey Mobility: Kersey Mobility has locations in Seattle, Spokane and Sumner, WA. Whether you live in Seattle, Spokane, Tacoma, Olympia or any of the surrounding areas, Kersey Mobility will help you find the very best mobility solutions to suit your individual needs.
###