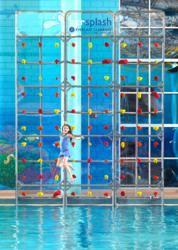 There's nothing like that in North Central Florida.
Gainesville, FL (PRWEB) April 01, 2013
Gainesville has a strong aquatics program and has focused on revitalizing several city pools, and done so with success. Attendance in the aquatics program has increased 42% over the last three years and the program strives to keep up growth.
Jeff Moffitt, Recreation Supervisor at the City of Gainesville says they are always looking for ways to continue growth, "What can we do to keep the momentum going?" When they came across the idea of a pool climbing wall there was a lot of excitement. "There's nothing like that in North Central Florida," Moffitt says. Gainesville will use the Kersplash wall to help make the Mickle Pool a destination of choice.
The Gainesville pool will feature a Kersplash Crystal Clear Climbing Wall created by manufacturer Everlast Climbing. Moffitt says he decided to go with the clear version because it will help the staff be able to monitor the whole facility a lot better. Safety is a big consideration. The walls are comprised of clear panels, attractive hand holds and stainless steel frames engineered to withstand wind loads of 90 mph, helpful in the Florida region.
Moffitt says that the new climbing wall is a unique product and [thinks] it will make the pool a destination for years to come. He adds that everybody who's seen or heard about it is incredibly excited and supportive. They are all looking forward to the May pool opening date.
About Everlast Climbing
Everlast Climbing is committed to improving youth fitness with dynamic and innovative products that engage children and inspire physical activity. The company is headquartered in Mendota Heights, MN, and is part of EverActive Brands, a division of PlayCore in Chattanooga, TN. More information is available about Everlast Climbing at http://www.traversewall.com.