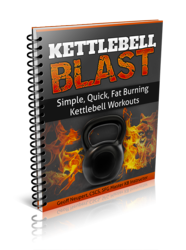 Kettlebells are just as good as barbells for building muscle, if you know what you're doing
(PRWEB) February 15, 2013
"Kettlebells are just as good as barbells for building muscle, if you know what you're doing," says Geoff Neupert, StrongFirst Master Kettlebell Instructor. The problem is, many people just don't know what they're doing.
Geoff, a 20-year veteran of the fitness industry, is the author of a book on muscle building with kettlebells, Kettlebell Muscle. He has taught thousands of others since 2002 how to successfully use kettlebells for physique changes.
The three key variables for maximizing muscle growth are tension, volume, and density and most people just don't know that. Tension is a general term for how hard a muscle contracts. The harder it contracts, the more tension is generated. Volume is the total amount of weight lifted, and density is how much weight was lifted in a set unit of time.
Because these are the three key variables in building muscle, it doesn't matter which tool you use for the job, a kettlebell, barbell, dumbbell, sandbag, or rock, as long as the minimum thresholds for each variable are met.
When you meet those minimum thresholds, any tool, including a kettlebell, can become a muscle building tool.
More bleeding-edge information about kettlebells, including kettlebell workouts, specialized kettlebell training, and how to properly perform the kettlebell exercises, can be found at Geoff's website, http://www.kettlebellsecrets.com/blast.