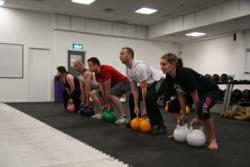 Kettlebells are repeatedly delivering some of the best weight loss results in the fitness industry - Stephen Aish.
London, UK (PRWEB UK) 13 October 2012
For many people in the UK fitness has become a non-essential luxury that they are willing to overlook based on time constraints, work, family and finances. Stephen Aish, founder of The Strength Academy states that exercise should be a cornerstone of life the same as eating breakfast and getting dressed before leaving the house. The kettlebell training expert presents a list of short and long term exercises benefits that can be briefly summarised as follows –

Reduced risk of heart disease
Better stress management and mental health
Protection against osteoporosis
Less dependency on others as people get older
Posture maintenance and correction
An improved sense of well-being and achievement based on goals
The days of needing two hours in the gym to stay healthy are long gone and a new way of training now dominates the fitness and fat loss world. Traditional exercise routines consisted of steady state cardio, however this has been improved upon and people are moving from the bikes, treadmills and cross trainers and engaging in resistance training to increase lean muscle mass and burn more fat based on increased metabolic demands according to The Strength Academy. Workouts are also becoming a lot shorter with as little as 30 minutes providing an effective workout using methods such as interval training and high intensity.
Kettlebell classes and workshops have seen an increase in popularity in recent years as they strengthen the back, activate the core and greatly improve health and fitness. A simple kettlebell circuit of swing, snatch clean, squat and press works wonders for time impoverished clients and can do the same for the general public.
As an example of how effective kettlebell training can be, the swing exercise uses around 80% of the muscles in the body, strengthens the heart and lungs (Farrar et al 2010) based on increased cardiovascular demands and metabolises fat when trained with interval methods at a high intensity.
The Strength Academy is currently providing workshops to ensure people get the education they need in order to take back control and personal responsibility for their health and well-being. Customers are losing up to 5kg per month just by training at home with an instructional DVD.
For more information visit http://www.thestrengthacademy.com
Facebook: thestrengthacademy
Twitter: @StrengthAcademy
About The Strength Academy
The Strength Academy is a UK based company that provides professional strength and fitness equipment to gyms and home users. They are also a kettlebell training provider for the fitness industry with accredited courses and kettlebell workshops. The company has consistently been at the top of the UK kettlebell industry and has international recognition. For more information please visit their website or email info(at)thestrengthacademy(dot)com.
References –
HSE Data 2010 - http://www.dh.gov.uk/health/2012/04/obesityfacts
Farrar, R. E., Mayhew, J. L., Koch, A. J. (2010). Oxygen Cost of Kettlebell Swings. Journal of Strength & Conditioning Research. 24 (4): 1034-1036.