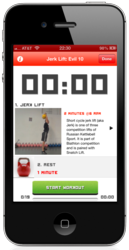 Truly a novice to expert resource. Detailed and very clear training tips technique and cues
Sunnyvale, CA (PRWEB) November 14, 2012
Kettlebell Coach app is smart enough to create kettlebell workouts on the fly, based on user criteria. Choose level, desired workout duration, goals and limitations. Tap "Generate Workout", and just like that a new customized workout awaits.
Kettlebell Coach uses algorithms to take user's limitations into account. Lower back pain? Knee aches? Shoulder immobility? No problem! Coach will analyze individual needs and choose exercises that are just right match each unique case.
Physical conditioning and kettlebell technique knowledge are also considered. App adjusts workout intensity and difficulty based on these variables. Beginner to kettlebell training? Coach will design workout of correct intensity, volume and exercise difficulty. Intermediate or advanced? Kettlebell Coach will bring the heat to create a fully customized experience.
Lets not forget about workout goals. Strength? Conditioning? Kettlebell sport lifts? Coach will take care of that as well by creating and structuring workout with unique and specific outcome in mind.
Workout generation is just a beginning. Kettlebell Coach will coach user through workout. It will time sets and rest periods. It will say when to lift and count reps. Yes, it talks.
Coach will even 'sit down' with user to teach proper exercise technique. 100+ of instructional videos available at any time.
Kettlebell Coach iOS app is FREE and available for download now from AppStore.