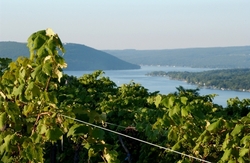 Around the World in Eight Wineries is an ideal opportunity for visitors to increase their understanding of why certain foods pair beautifully with specific styles of wine
Penn Yan, N.Y. (Vocus) April 2, 2010
The eight wineries of the Keuka Lake Wine Trail in Finger Lakes Wine Country, New York, invite visitors to celebrate the delicious diversity of the world's culinary traditions. Around the World in Eight Wineries, April 17 and 18, will take wine lovers on a worldly excursion of food and wine pairings. Each participating winery will offer a unique and delectable dish from a different country and will pair it with carefully chosen wines.
At their starting winery, ticket holders will receive a complimentary Keuka Lake Wine Trail signature wine glass. Each winery along the Trail will offer a choice of four sample wines to accompany the cultural dish being served. Many wineries will feature special offers on selected wines and merchandise. All ticket holders will also be entered to win a one-night stay for two at the Inn at Esperanza Mansion, a sightseeing cruise aboard the Esperanza Rose and a certificate for one bottle of wine from each of the eight wineries.
"Around the World in Eight Wineries is an ideal opportunity for visitors to increase their understanding of why certain foods pair beautifully with specific styles of wine," commented Eileen Farnan, president of the Keuka Lake Wine Trail. "People who attend the event will be among the first to sample and take home newly-released vintages from our great 2009 grape harvest."
The eight participating wineries include Heron Hill Winery celebrating France, Dr. Konstantin Frank's Vinifera Wine Cellars celebrating Hungary, Stever Hill Vineyards celebrating the United States, Hunt Country Vineyards celebrating Italy, Keuka Spring Vineyards celebrating Germany, Barrington Cellars celebrating Paraguay, McGregor Vineyard Winery celebrating the Middle East, and Ravines Wine Cellars celebrating Ireland. Event hours are Saturday 10am-5pm and Sunday 11am-5pm.
Advance sale tickets are $25 plus tax per person for a weekend pass, or $19 plus tax per person to attend on Sunday only. Tickets may be purchased by calling 800.440.4898, logging on to http://www.KeukaWineTrail.com, or by visiting your local Wegmans. A limited number of tickets will also be available at the wineries on the days of the event at $30 per person plus tax for a weekend pass, $24 for Sunday only. Listen to the 15-minute podcast about this event at http://www.snurl.com/v6dk7
Celebrating 23 years of history, diversity and hospitality, The Keuka Lake Wine Trail invites you to visit and discover what sets our destination above all others. The Keuka Lake region is home to the ultimate in wine history. It was here in 1860 that the first bonded winery was established. It was also on Keuka Lake that the first Vinifera vines were planted, sparking a renaissance of world-class winemaking in the Finger Lakes Region.
For information on this event and the Keuka Lake Wine Trail, including upcoming events, contact the Keuka Lake Wine Trail office, 2375 Route 14A, Penn Yan, N.Y. 14527, 800.440.4898 or visit us online at http://www.KeukaWineTrail.com. For further information on Finger Lakes Wine Country, NY visit http://www.FingerLakesWineCountry.com
###