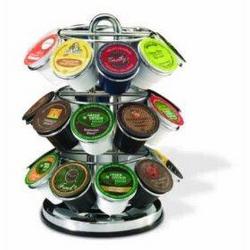 Portland, OR (PRWEB) March 17, 2009
In celebration of the NCAA Basketball Championships, GreatCoffee.com announces a special offer on Keurig® K-Cups.
In recognition of the 64 teams playing in the NCAA tournament, GreatCoffee.com will be selling select boxes of 24-count K-Cups for just $9.64/box, a savings of nearly 15% off our regular discount prices and more than 30% off suggested retail prices. This special offer will be available March 16-22, March 26-29, and April 4-6.
About GreatCoffee.com
GreatCoffee.com is a web retailer dedicated to selling Keurig coffee makers, Green Mountain K-Cups and top-rated coffees from America's best specialty coffee roasters. Since 2003, GreatCoffee.com has provided coffee lovers with low prices and speedy delivery of great coffee and related products.
About Keurig, Inc.
Keurig, Incorporated is the leader in single-cup coffee brewing technology in the U.S. for both home and office. Keurig's patented single-cup brewing system lets people brew a perfect cup of gourmet coffee in less than a minute without the hassle of grinding beans, measuring coffee, handling filters or cleaning up. With the Keurig brewing system, you make a consistently great cup of coffee every time.
###