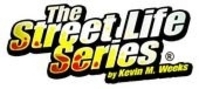 Atlanta, Georgia (PRWEB) June 5, 2009
The African American Pavilion at BookExpo America 2009 held its annual prestigious awards ceremony in New York City the fifth Saturday in May. Receiving the Urban Book Series of the Year Award, Kevin M. Weeks was highlighted for the many contributions he has made to people of African descent with book characters that emerge as positive figures on the urban landscape. For a full list of honorees, visit the African American Literature Book Club.
In 2006, Kevin M. Weeks released The Street Life Series which is a collection of crime fiction novels. Weeks has become known for his storytelling ability and bold book covers. For instance, the book cover artwork depicts the major city where main character Teco Jackson travels as crime happens all around him. In addition, Weeks incorporates old school wisdom to guide the book series characters through their exhilarating journey. Also, book proceeds benefit the Stay Off The Streets Fund, which is a charitable fund to aid "at risk" teenagers who age out of foster care without a strong support structure.
About The African American Pavilion at BookExpo America
BookExpo America is the premier North America publishing industry event which provides attendees exposure to approximately 30,000 book buyers and booksellers from across the globe. The African American Pavilion at BookExpo America was founded in 2004 by Tony Rose, Amber Communications Group, Inc., Adrienne Ingrum, Adrienne Ingrum, L.L.C. and Niani Colom, Genesis Press. The 5,500 square feet venue showcased on the main exhibit floor independent African-American book publishers, self publishers, black interest imprints at major publishing houses, distributors, literary agents, publicists, librarians and bookstore owners. The event is scheduled to return to New York City in 2010.
About the Author
Kevin M. Weeks is an African American writer and philanthropist. For his works, Weeks has also received awards and recognition from the 2008 London Book Festival, 2007 New York Book Festival and was named the YOUnity Guild of America Best New Urban Author 2006. He resides in Atlanta, Georgia.
The Street Life Series * by Kevin M. Weeks
Publisher: Xlibris Corporation
Distributor: Ingram and Baker & Taylor
Website: http://www.thestreetlifeseries.com
Google Search: Kevin M. Weeks or The Street Life Series
# # #