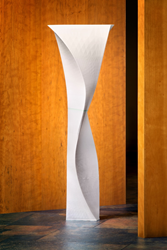 This technology is merely a tool. Anyone who thinks it involves merely pushing a button deserves to learn more.
Phoenix, Arizona (PRWEB) October 23, 2014
After some suspicion and caution, artists are now openly embracing 3D printing technology. "It's not all romance," admits sculptor Kevin Caron, who has been working with 3D printing for nearly two years. "Still, I'm finding a lot to love about this technology and its surprising influence on my work."
Caron's ground-breaking 36-inch-tall sculpture Simple Planes With Aquamarine Stripe recently debuted at the art show "Materialize: 3D Printing & Rapid Prototyping" at Phoenix's historic Shemer Art Center. The sculpture was created using one of the largest 3D printers available for the consumer market, according to its manufacturer, Cerberus 3D. Its Gigante will print items as large as 54 inches tall and 34 inches in diameter, about four times the height of most consumer printers.
"This sculpture is a great example of the unanticipated nuances of this technology," says Caron. "Halfway through the print, a mysterious line appeared, hence the sculpture's name," he explains. "Rather than ruining the artwork, the aberration adds immeasurably to its beauty and mystery." Caron, who uses 3D printing for proof of concept and commission demonstration as well as original work, is now able to create work impossible in the metal with which he still also sculpts.
The show features the work of more than 20 artists from around the country as well as several presentations, including a panel discussion about whether what these artists are doing actually is art. "There's no question in my mind," says Caron, whose award-winning sculptures are seen in public and private places across the country. "This technology is merely a tool. Anyone who thinks it involves merely pushing a button deserves to learn more."
On Saturday, Nov.8 he'll share his journey with the technology in a free presentation at Shemer. His 3D-created jewelry also debuts during the show. "Never in a million years would I have thought I'd be making jewelry," Caron admits. "But then, this technology allows me to do things I wouldn't have dreamed of. I'm looking forward to the future – this relationship is just beginning."
"Materialize" opened with a packed reception of the curious and 3D enthusiasts on Thursday, Oct. 16. The show runs through Nov. 27. Shemer Art Center is located at 5005 E. Camelback Rd. in Phoenix. For more information about the show, visit http://www.shemerartcenter.org or call 602-262-4727. See and hear Kevin Caron's work at http://www.kevincaron.com
###
Images of Caron's sculpture Simple Planes With Aquamarine Stripe (see below) are available now. Download them from http://www.kevincaron.com/media_photos.html or contact Mary Westheimer at mary(at)kevincaron(dot)com or 602-952-8767.
A Point of Pride in the City of Phoenix, the Shemer Art Center is a hidden gem at the base of Camelback Mountain. The Shemer Art Center and Museum offers instructional classes in a variety of artistic disciplines throughout the year for artists of any age. Exhibits and annual events are also held inside the 1920's historic home and on the beautiful 3-acre grounds, which include a citrus orchard and sculpture garden.
Artist Kevin Caron's inspired sculpture can be seen in public and private places from coast-to-coast as well as overseas and online at http://www.kevincaron.com His more than 45 commissions include Giant Street Urchin for the $131 million Harbourside Place development in Jupiter, Florida, and his award-winning sculpture Hands On for Avondale, Arizona. Caron was named Sculptor of the Year by Art Trends Magazine 2012 - 2014. His YouTube channel has more than 5.7 million views and 19,000 subscribers.
Cerberus 3D is a family owned and operated business dedicated to improving low-cost 3D printing technology and to giving innovators the tools to create high quality parts. Its printers have been featured at MakerFaire, the Arizona Science Center and in MAKE Magazine, and some of its printed items have flown on the International Space Station.
CONTACT:
Shemer Art Center: Tiera Allen, tiera(at)shemerartcenter(dot)org, 602-262-4727
Jocelyn Hanson, jocelyn(at)shemerartcenter(dot)org, 602-262-4727
Kevin Caron Studios: Mary Westheimer, mary(at)kevincaron(dot)com, 602-952-8767