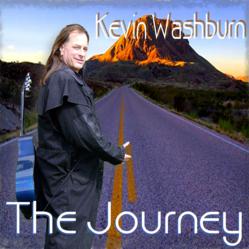 After a Two Year Hiatus Rock N Roller Kevin Washburn releases a Christian Rock Album
Jacksonville, FL (PRWEB) July 14, 2011
When asked about the album "The Journey" and why Trinity, Kevin indicated that he had been thinking about making an album that revolved around his life's journey and that he felt Trinity would be the best place to provide the atmosphere he wanted. Kevin stated the reason he had stopped taking gigs and dropped out of sight "was to isolate myself so I could concentrate and get my mindset right." He later joked, "I did not realize at the time it would take two years to put The Journey into words and music." Probably a good indicator of how much he cares about the music contained in this album.
People who don't know Kevin by name will probably recognize his guitar and voice from his bands and studio work. In the 80's Kevin toured with "The Jimmy Vanzant Band." He left the Vanzant Band in 1985 and formed his new band "Rakha" which toured and played around Gainesville and Jacksonville Florida. In 1987 they won the Battle of The Bands in Jacksonville and moved on to Los Angeles California. He played in and around Los Angeles with his original band Rakha and his cover band "K.G.B" for eight years. Moving on from Los Angeles to Santa Fe, Dallas to Austin he did studio work for the next couple of years. Moving back to Jacksonville Florida he played with his cover band "Huge Richard" throughout Florida and Georgia. In 2004 he won the guitar contest out of "Guitar Center" in Atlanta Georgia and continued to play with his band Huge Richard until 2009 when he dropped out of sight to work on his new album The Journey.
The new album, "The Journey", is a dramatic departure from Kevin's past works. The CD is a blend of Spiritual and Rock N Roll Christian music. In the songs, The Road and Judgement Walk, the unique style of the life long Rocker is evident. The album begins with "In the Blink of an Eye" and is clearly about the passing of childhood. The album progresses with mixtures of songs that are at times melancholy like "Full Moon" and at other moments feature Kevin's dramatic guitar solos and rifts. The "Judgement Walk" introduction is an excellent example of the great fret work contained in songs throughout the album. The final song "The Road" finishes out the album and is best described as a song speaking to the continuing journey down life's highway and moving on down that road. It is to be hoped that Kevin will provide us with more songs about his journey going forward soon and not wait another two years.
You can get a good feel for the songs and style on Kevin's website KevinWashburn.net, designed and hosted by PizzazzWeb. The album is available for download at CDBaby.com now and will be available on iTunes and in record stores soon.
###