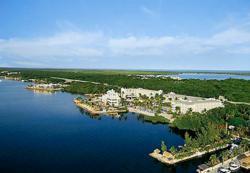 Celebrate Thanksgiving at one of the most popular Key Largo resorts, the Key Largo Bay Marriott Beach Resort.
Key Largo, FL (PRWEB) November 22, 2011
Celebrate Thanksgiving at one of the most popular Key Largo resorts, the Key Largo Bay Marriott Beach Resort. Situated on the coast overlooking the Gulf of Mexico, this Key Largo resort is already a popular destination as the weather gets colder. Now visitors can enjoy a scrumptious Thanksgiving buffet at the on-site Gus' Grille.
Gus' Grille is a long-time fine feasting favorite among locals in Key Largo, as well as guests of the hotel. With its casual waterfront ambiance, attentive service, and menu of fresh seafood and other culinary delights, Gus' Grille provides one of the best dining experiences in the Keys. Now, with the announcement of its Thanksgiving buffet menu, guests and locals alike will have even more reason to be excited about a visit to this Key Largo restaurant. Guests at this Key Largo resort will enjoy butternut squash bisque and chicken corn chowder soup; baby fields and crisp romaine salad; carved to order roasted turkey and slow-roasted prime rib; pecan crusted yellowtail snapper, pumpkin ravioli, chicken Florentine, maple brown sugar glazed ham, Yukon gold mashed potatoes and other entrees; and an ice cream station, pumpkin pie, apple pie, pecan pie and other desserts. Everything at the Key Largo restaurant will be served buffet-style, giving guests the opportunity to try every offering—as well as to risk having to loosen their belts a couple of notches.
The Thanksgiving buffet at Marriott's Key Largo hotel is exceptionally priced at just $29.95 per person (plus tax and gratuity) and $14.95 for children 5-12. Children under the age of four are free. Reservations can be made by calling (305) 453-423-0000 or 453-0029. The Thanksgiving Day buffet at Gus' Grill is served from 1 PM until 8 PM. Guests are encouraged to make reservations in advance.
About Key Largo Bay Marriott Beach Resort
Discover the Key Largo Bay Marriott Beach Resort, located on 17 lush acres of waterfront paradise overlooking the Gulf of Mexico. Just an hour south of Miami, this resort in the Florida Keys entices guests with dazzling blue skies and colorful drinks while they fish or explore the coral reefs! The Key Largo Bay Marriott Resort is a premier full-service Key Largo hotel offering upscale rooms highlighted by luxurious amenities. The deluxe, two-bedroom suites offer balconies with breathtaking water views. The Key Largo resort offers Gus' Grille for breakfast, lunch and dinner; Breezer's Tiki Bar, featuring live music; and Flipper's Pool Bar, serving poolside and on the beach. Also available on the resort is a full-service Day Spa, along with the resort's well-equipped dive shop and marina and a pristine private beach. With something for everyone, this beautiful Key Largo, Florida hotel is sure to become a favorite vacation destination. For more information, visit http://www.marriott.com/MTHKL.
###